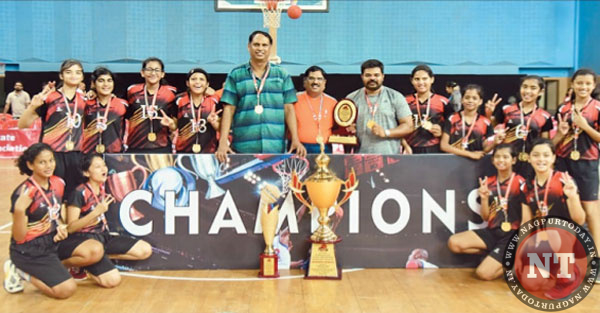 Nagpur: Basketball Association in association with Poona District Basketball Association and NJ Academy, at Shiv Chhatrapati Sports Complex Balewadi, Pune. Nagpur team received a cash purse of Rs 25,000 for their title triumph.
Shivaji Nagar Gymkhana's Shomira Bidaye, who scored 18 points in the final, was adjudged as the best player of the tournament, her second in as many years. The final was a high scoring game but it was Nagpur who kept the pressure on the hosts.
Nagpur girls took lead in the first quarter with a 20-12 margin and then extended it in the second quarter (16-14). Pune tried hard to come back into the game but Nagpur girls maintained the lead till the third quarter (15-11).
In the last quarter, Pune gave all they have and managed to win it with 22-16 but it was not enough to surpass Nagpur's score. For Nagpur apart from Phate and Bidaye, Sameeksha Chandak (9), Swati Wankhede (7), Avani Banthia (4), Mihika Meshram (4), Anisha Sontake (2) and Shreya Gupta (1) scored points.
For Pune, Mandi Nirmalkar (19), Bhumika Sarje (12), Tanvi Salve (11) were the scorers.
Nagpur girls team: Shomira Bidaye (Captain), Swati Wankhede, Mihika Meshram, Sharvari Nene, Dhara Phate, Samiksha Chandak, Avani Banthia, Shreya Gupta, Suryashree Dhondarkar, Anisha Sontakke, Adrija Biswas, Bhargavi Sarve
Head Coach: Shatrughna Gokhale Coach: Arvind Garud Manager: Diraj Kadao.