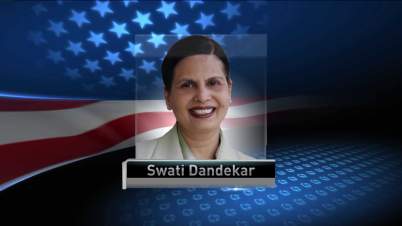 Nagpur News:  Indian-American Swati Dandekar of Democratic Party has announced her candidacy for the 1st Congressional District of Iowa. Dandekar is a former Iowa legislator representing the Marion area in the Iowa House of Representatives from 2003 to 2009 and in the Iowa Senate from 2009 to 2011.
From 2011 until recently she served as a member of the Iowa Utilities Board. During her years in public office she was a strong voice for job creation, working to bring advanced technology and skilled jobs to the state.
Born in Nagpur, Dandekar holds a bachelor's degree from Nagpur University and a post graduate diploma in dietetics from Bombay University. She came to Iowa in 1973. As a proud naturalised American citizen she believes the foundation for success is an excellent education. "Over the past few months I have been exploring a run for the 1st?Congressional District. I have met with voters across the district and have been encouraged by their support for my campaign," she said. "Last May I formed an exploratory committee chaired by Senator Wally Horn of Cedar Rapids and Tina Patterson of Marion.
With their help, we have made a thorough assessment of the race and I now feel confident that I can win the Democratic nomination next June and the election in November of 2014," she added. Her entry in the race brings to five the number of Democrats seeking the 2014 nomination to run for the seat now held by Bruce Braley. Braley is running for the US Senate seat held by Tom Harkin who is retiring. Dandekar says she recognises the importance of agriculture, advanced manufacturing, technology and renewable energy to the district and believes the future opportunities in Northeast Iowa will stem from expanding these sectors. "I am running for Congress because I truly understand the promise that the US offers and I want to make sure that every Iowan is given the same opportunity that I had. I am a living testament that the American dream is alive," she said. Dandekar was the chair of the Senate Commerce Committee, vice chair of the Economic Development Budget subcommittee, and was elected President of National Foundation of Women Legislators in 2011. In 2011, Dandekar was appointed as the Democratic member of the Iowa Utilities Board.
Until her resignation from the Board she was a member of National Association of Regulatory Utility Commissioners and served on the NARUC Committee on Tele-communications and the Committee on International Relations. Swati and her husband, Arvind, reside in Marion, Iowa. They have two sons, Ajai with wife, Allison as well as Govind, his wife Shaneeda, and daughter Ayaana.