Nagpur News.
With every spell of rains, the football freaks in Nagpur put on their kicking shoes to spill the joy of game. And what could be the better time to cheer up for football than the ongoing FIFA World Cup. The craze for the cup is infectious and caught the world over with its flying colors. So how come aapla Nagpur lag behind? Youths specially enjoy watching football, even if it means staying awake overnight.
Nagpur Today spoke to a few city personalities to get a feel of the football spirit.
Head of HR and (Training & Placement), St. Vincent Palloti College Ashish Lawrence said that even if I am dead tired, I always make time to watch the match before going to sleep. Since Football has been my passion always, I enjoy watching the game.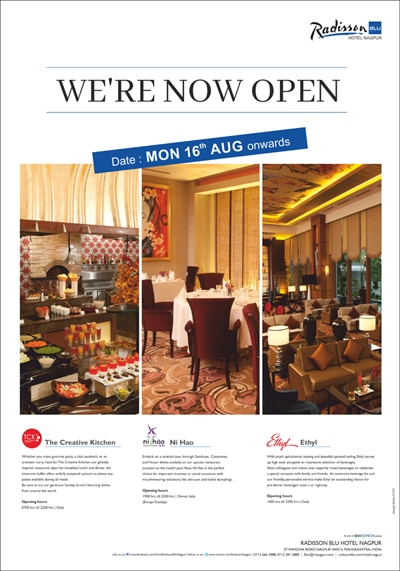 A student cum football fan Shrivats Chari says, "I am a true Germany supporter in Football. They were in the finals even in the last year. I am very sure that this year too they will reach the finals. I have all my faith in them. However, I don't have the same faith in Spain and Italy. About star performers, people would really support Ronaldo, however, according to me there are many upcoming star performers. The English Premier League performance was extraordinary so Nicholas @ Nicky Shorey could be one of the star performers this year."
While speaking about the high chances of winning, Chari opined that many expect and hope Brazil will win the cup, since it is their home ground, this cannot be said for sure, since many factors like poverty, missing rates and others will influence their winning.
Entrepreneur Varun Sharma while speaking about the FIFA Cup, opined that Brazil will certainly win, since
there are many youngsters in the team. While explaining his point of view, he spoke about one Neymar da Silva Santos alias Neymar Jr has shown exceptional foot-work. However, he opined that Lionel Messi of Argentina is his favourite.
He said that as compared to Messi's last year's performance, which was not all that good, this year, he has geared up thoroughly for this year's match. The people have always expected Messi to perform better apparently. Based on a clear analysis, Spain concentrates more on David Villa Sánchez, however, this time round, the youngsters have grabbed it and have taken the lead, and hence Brazil stands a good chance in winning the cup. To add to this Brazil has the fan support in their home ground.
CA Brajesh Murarka excerpted, "2014 FIFA World Cup Brazil is a proof that you can create a World Cup-themed FIFA game with lots of new features and an atmosphere of this great sporting event. We get official teams, pretty stadiums, special game modes and more aggressive AI on the football field. This game can be proudly called a high quality official virtual counterpart to the real thing. About the game this year, I strongly feel Brazil would win. Brazil have won the most number of world cups They are most successfull team in football Their FIFA ranking is 4 and they have successful players like Júlio César, Thiago Silva, Marcelo, Maicon, Oscar, Fred, Hulk and Neymar. The fact that all the previous world cups held in South America were won by South American teams, Brazil is a favourite to win this tournament. My favourite player is Lionel Messy."
Nagpur Lad and event coordinator Ani Ray expressed
his views saying, "This year, I support Brazil, the obvious reason being, they have got one of the strongest squad on paper and they play with heart. They leave their bodies to the field for their country, I feel. Plus they have a squad that mostly consists of players from FC Bayern Munich, hence having a better chemistry! Best performer according to me would be Thomas Muller.
This would be a unique one, as its Brazil, home of football! They worship this game like anything. It's not just a game for them it's life for them. Spain is my favourite in this tournament. My favourite player is Lionel Messy. In addition I would mention that we can witness history at this world cup! Miralov Kolse just needs two goals to become highest goal scorer in world cups."
However, hard core football fan, Shreyas Solao specified a few important details, at the same time expressing his passion-
"Brazil being the home team is overwhelming favourite with Neymar spearheading their attack with stars like Hulk and Oscar supporting him.
Argentina is my 2nd favourite after Brazil, Lionel Messi with a point to prove after a disappointing season with Barcelona. Supported by Angel Di Maria, Sergio Aguero and Lavezzi, we can expect a better performance.
Germany are 3rd Favourites as they generally excel in major tournaments. All eyes are on Klose as he aims to break the all time scoring record in World Cup History. This shall be ably supported by Mezut Ozil, Bastian Schweinsteiger, Thomas Muller and have the world's best goalkeeper Manuel Neuer.
Spain were one of the favourites but their odds have increased as they were smashed by Netherlands in the world cup opener (Group B). They have a wealth of talent with players like Xavi, Iniesta, Ramos and also Diego Costa who rejected playing for Brazil and chose to play for Spain.
Other dark horses are the Netherlands who are managed by Louis Van Gaal, the newly appointed Manchester United manager and have world class players like Robin Van Persie, Robben etc.
Other dark horses are France, Italy and Portugal. France being headed by Karim Benzema, has talents like Griezmann, Mangala, Varane and Pogba, which might be the saviors.
Italy has Pirlo as their official focal point with the unpredictable Mario Balotelli up front. Italy has another veteran in Buffon who may be playing his Last world cup, which may make it perform well.
Portugal who is led by Ballon D'or Winner Cristiano Ronaldo are an unpredictable part of the World Cup.
Belgium is also up in the favourites list having really good players like Lukaku, Eden Hazard, Kompany, Vertonghen and Witsel. However they lack experience in major tournaments.
England and Uruguay are also considered dark horses as –
England has Rooney and Sturridge up front in form, with Rahim Sterling and Steven Gerrard supporting in the midfield. Barkley Shaw and Oxlade Chamberlain may have a huge role to play.
If we talk about Uruguay they have a potent strike force with L. Suarez, Cavani with Diego Forlan and they actually can't be ruled out.
Other good teams are Chile, Ivory Coast and Japan but I think they will have to work hard to get there.
Dark Horses – Netherlands, France, Italy, Portugal, Belgium, England and Uruguay."