It's has surged 5-times in last 50 years!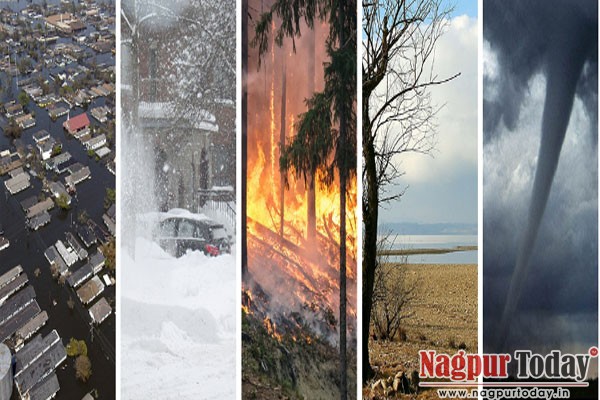 Nagpur: In what could be flagged as "the last signal" — in a bid to tackle global environmental and climate challenges — the World Meteorological Organisation has tabled a report stating some shocking facts that there has been five-time surge in the number of climate-weather related disasters globally over period of last 50 years.
The document from the United Nations (UN) agency stated that between 1970 and 2019, more than 11,000 such disasters took place. They led to "just over 2 million deaths and $3.64 trillion [approximately Rs 266 lakh crore] in losses", the report mentioned.
But the news is far from all bad, the reports reads and credited "improved early warning systems and disaster management" for the decrease in the number of deaths decreased almost threefold between 1970 and 2019 – falling from 50,000 in the 1970s to less than 20,000 in the 2010s, the report explained.
While the world suffers the wrath of man-made catastrophe, the Second Capital of the State is certainly not an exception, say city environmental experts who pressed their demand for stringent law enforcement to curb climate-weather related disasters.
Need of stringent law enforcement to curb climate-weather crises:
Speaking to Nagpur Today, Kaustav Chatterjee, founder of Green Vigil Foundation explained the only way to curb this menace is to enforce stringent laws and penalties.
"We Nagpurains share a common behaviour, unless and until anything takes a toll on our pockets we shall definitely not bow to it. Take an example of a helmet, which is essential when it comes to driving and which has saved several lives during accidents. Earlier, when the fine was Rs 100, we would often feel "the burden" of that life saving asset. However, soon when penalties were raised to Rs 500-1000, the same burden had started to feel like a blessing! Thus, we have had enough discussion on deriving coercive measures to control climate-weather related disasters. I feel like there's an immediate need to beef up Environmental Protection Law with strict penalties that should be mandatory for offenders," he elaborated.
Vertical development attributing to woes in Nagpur:
Emphasizing further Chatterjee said that the vertical development of the city coupled with efforts to turn the Second Capital of the State into the "concrete jungle" are some key factors that have contributed to the environmental crises in the city. The ground water level has reached its new low owing to numerous borewells, not to mention cement roads, and now footpaths too, which tend to deter water percolation, he asserted.
Steps to ensure water percolation, need to fix limits on borewell:
Besides planting trees to compensate for our failures, there is a need for coercive steps to ensure water percolation in the vicinity. Administration should also come up with some limit of borewell depth so that ground water should fall further. Along with rain water harvesting, proper drainage system and ban on single use plastic will only help in securing brighter future of our young generation, suggested Chatterjee.
– Shubham Nagdeve