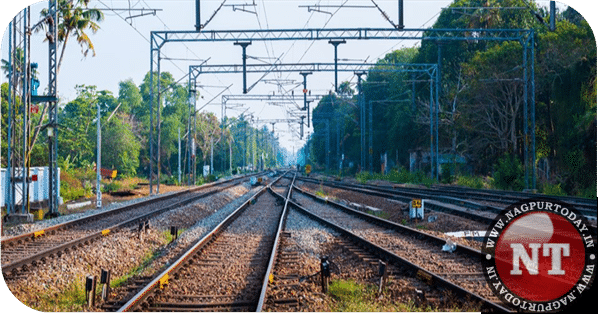 Nagpur : Indian Railways is working in mission mode as far as becoming the largest green railway in the world is concerned. Before 2030 we are moving towards the aim of becoming a 'Zero Carbon Emitter". In order to meet the growing needs of new India, the Indian Railways needs to be environment friendly, efficient, cost effective, punctual and passenger friendly. Things are being prepared according to the holistic approach of modern carriers as well as freight movement.Indian Railways has embarked on an ambitious plan to electrify its entire broad gauge network. With this plan not only will better fuel energy be used, which will increase production, reduce fuel cost, but also valuable foreign exchange will also be saved. In this concern, 100% electrification work of railway lines of Nagpur Railway Division has been completed. Along with the electrification of Seoni-Chaurai 32.59 kilometer railway section under Chhindwara-Nainpur section, Nagpur Railway has achieved the target of 100% electrification..
Concerning Seoni and its surrounding forest areas, "The Jungle Book" written by the famous author Rudyard Kipling highlights the region as Mowgli's playground. The journey of electrification in Nagpur Railway Division began in 1989-90 with the electrification of the Drug-Paniyajob rail line on the Mumbai-Howrah Main Line. Electrification work of Durg-Paniyajob railway section was completed on 31 March, 1990, Paniyajob-Gondia railway section on 22 January, 1991, Gondia-Bhandara road railway section on 31 March, 1991, Bhandara road-Tharsa railway section on 30 November, 1991 and Tharsa-Nagpur railway section on 28 December, 1991. The Jabalpur-Nainpur-Gondia, Nagpur-Chhindwara, Chhindwara-Nainpur-Mandla Fort rail sections under Nagpur Railway Division have been electrified simultaneously with gauge conversion from narrow gauge to broad gauge.
Thus Nagpur Railway Division is 100% electrified now with a total of 1206.5 route kilometre and 2111.8 track kilometre rail lines. At present, famous trains of the country like Vande Bharat, Rajdhani, Janshatabdi and others run from Nagpur Railway Division. A large number of MEMU trains including express trains are being operated. as well as most of the freight trains of South East Central Railway have the distinction of being one of the freight loading zones.
Operations of all these trains are being run from the Nagpur circle. In this railway, a commendable initiative has also been started for quiet and convenient rail transport by introducing the Head on Generation (HOG) system in LHB based trains. With 'Head on Generation' (HOG) technology, trains are drawing power directly from the grid through Over Head Equipment (OHE) instead of burning costly diesel fuel. 100% electrification of Nagpur Division to save revenue and millions of tonnes of carbon footprint, it will also play a benevolent role in environmental protection. The pace of environment-friendly and pollution-reducing railway electrification in Indian Railways has increased 9 times since 2014. The scheme of electrification of broad gauge lines by Railways will facilitate the elimination of diesel traction which will result in significant reduction in environmental pollution along with reduction in carbon footprint.
Advantages of Electrification of Railway Lines
• Environment friendly mode of transport
• 100% electrification will result in uninterrupted train operation and improvement in traction
In train operation due to conversion i.e. change from diesel to electric and electric to diesel traction
The delay that will happen will be over.
• Reduced dependence on imported diesel fuel, thereby saving valuable foreign exchange as well
Reduction in carbon footprints.
• Lower operating cost as electric traction is much cheaper and more efficient than diesel traction
Because trains running on electric traction are up to 50 percent cheaper than diesel ones.
• Enhanced transport capability of heavy freight trains and long passenger trains with high carrying capacity of electric locomotives.