Nagpur Crime Branch busts gang of robbers involved in 15 robberies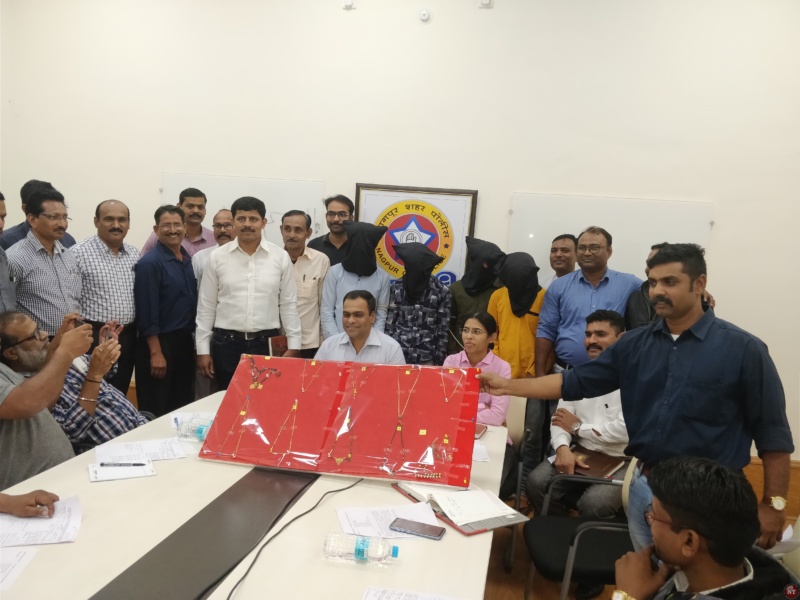 Nagpur: Crime Branch of Nagpur Police arrested four robbers and claimed to have solved 15 robberies and dacoities reported at Rana Pratap Nagar, Bajaj Nagar, Sonegaon, Ambazari, MIDC, Dhantoli, Sakkardara and Nandanvan police stations.
The police recovered stolen valuables worth Rs 6.51 latch from their possession, informed Deputy Commissioner of Police (DCP) Detection Sambhaji Kadam. Arrested accused are identified as Sagar Hanumant Nimbalkar (24), a resident of Plot No. 163, Rashtrasant Nagar, Narsala, Hudkeshwar, Gaurav Ashok Bhute (19), a resident of Plot No. 114, Sai Nagar -1, Hudkeshwar Road; Sagar Devidas Mutkure (22), a resident of Bahadura turning, Umred Road and Abhinav Ajay Shirpurkar (24), a resident of Manewada.
DCP Kadam informed that the accused were committing robberies by wearing helmets to hide their identify But the crime were record-ed in the CCTV cameras. After analysing the CCTV footage, an informer of police revealed name of an accused after which the cops took him in custody. During interrogation, the robber confessed for the crime and revealed names of the accused.
Sagar Nimbalkar is the leader of the gang. Another accused Abhinav Shirpuralcar was accused in a murder and an attempt to murder case reported in year 2014. Nimbalkar was running a paan-kiosk during Tajbhagh Urs last year where he befriended with other accused and formed the gang. Parents of Gaurav, Sagar and Abhinav are daily wage workers. After committing the crime, the gang was keeping the valuables with one Palash Wanlchede (24), a resident ofTrisharan Chowk, the police said. The gang have committed 10 chain snatching, three bag lifting, a theft, an attempt to commit chain snatch-ing and an attempt to commit dacoity. The police have recovered gold ornaments (104 gn) worth Rs2.92 lakh; Rs 25,500 cash; five motor-cycles, five sharp-weapons, five mobile phones from their possession.
Under the guidance of DCP Kadam and ACP Ashwini Patil, the arrest was made by PI Bharat Kshirsagar, API Kiran Choughule, PSIS Manish Wakode, Surajpal Rajput and staff including Battulal Pandey, Sanjay Devkar, Raju Dange, Sukhdev Madavi, Milin Moon, Nrusingh Damahe, Satish Meshram, Sudhalcar Dhandar, Suraj Bhongade, Harish Ganj re, Ravindra Raut,SatishNimje, Prashant Kodape, Ramlcallas Yadav, Avinash Thakur, Dhnyaneshwar Tandulakar, Govind Deshmukh, Rajendra Tiwari, Dipak Zade and others.