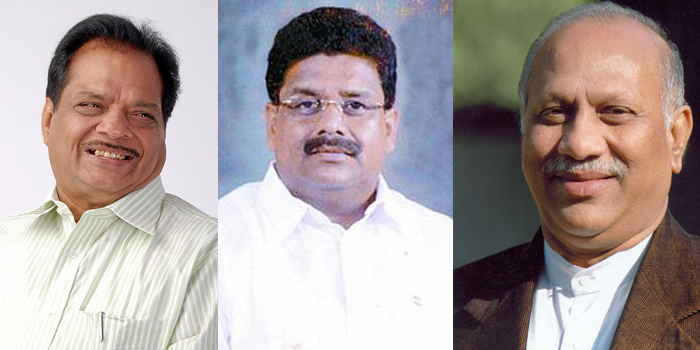 Nagpur Today:
Major political parties in Nagpur City have geared up for the upcoming Lok Sabha elections to be held in 2014 (Or anytime before the schedule). The Congress high command has directed its Members of Parliament (MPs) to remain in their respective constituencies and review the development works and resolve the people's problems. Frustrated by the Bharatiya Janata Party's (BJP) campaign launched by the party almost a year ago the Congress leaders in Nagpur are displaying unity among them by coming together under one roof by burying their differences. But this so-called unity is creating confusion among voters and party workers than uniting them.
The present MP Vilas Muttemwar, luckily elected twice from Nagpur constituency, is not on good terms with several Congress leaders except South Nagpur MLA Dinanath Padole and his close confidant Vikas Thakre. If one terms Muttemwar's victory in 2009 polls owing the hard work put in by Vikas Thakre's hardcore workers' team alone will not be surprising.
Last Sunday, all the Congress leaders, executive members and key workers were invited for a meeting at Devadia Bhavan.  Most of the Congress men, albeit, with no choice, were present at the meeting except Anees Ahmed and Rajendra Mulak who cited pre-occupied as reason for their abstention. Several party leaders were seen happy over the unity after resolving their differences. The leaders vowed to work hard for success of the Congress candidate forgetting their differences on several issues. However, several leaders could not hide their frustration and noticed a game plan behind the unity show among the leaders.
Similarly, the leaders have decided that no leaders will put up their candidates against the official candidates during elections for Maharashtra Assembly. The Congress leaders have agreed in principle to put up Satish Chaturvedi from East Nagpur constituency, Rajendra Mulak from West Nagpur, Nitin Raut from North Nagpur, South Nagpur Dinanath Padole or Vishal Muttemwar or Abhijit Vanjari, Central Nagpur Anees Ahmed, South-West Nagpur Praful Gudhde Patil or Vikas Thakre or Sameer Meghe. However, politics is a different ball game. Nothing goes as planned. The Congress high command has the full authority to name a candidate from a particular constituency. It may be mentioned that in Congress a candidate is finalized but some other leader gets the AB form and declares his candidature as the authorized one. Although the candidates are "finalized" by local leaders it has to be seen who plays the successful game.
Vilas Muttemwar was elected in 2009 from Nagpur constituency despite opposition from big guns of the party. The credit for his victory goes to his confidant Vikas Thakre. It was the hard work put in by Vikas Thakre's hardcore workers' team alone. In return, Vikas Thakre was allotted South-West  seat but he lost the election. The constituency is BJP stronghold. The constituency, if one were to call it, is already a developed one. And Thakre failed to carry out any fresh development work. Whenever a Congress or BJP is candidate elected from this constituency the Central-State relations will play a crucial part. The constituency may witness some fresh development works if Congress or BJP  is in power both at Centre and the State.
However, only a miracle can make Vikas Thakre victorious from South-West Nagpur the constituency being BJP's stronghold. It will be a big gamble for Thakre in his political career if he waits for his victory from the constituency for a long period. Similarly, Muttemwar has almost decided to put up his son Vishal from South Nagpur instead of Dinanath Padole. Congress leaders and workers loyal to Vikas Thakre, who has kept Muttemwar group active alone, are talking about the fate of Vikas.