Nagpur Today.
The Members of Nagpur City Youth Congress submitted a memorandum to the Municipal Corporation on 3 important pressing issues.
The members of the Nagpur Youth Congress in their memo complained about the gross inconveniences within the city limits and informed him that in spite of the repeated request to conduct an impartial inquiry into Star Bus scam, the Mayor seems to be reticent and helpless. They requested him to get an inquiry done by a committee headed by a former magistrate to analyse the working of the Ruling Party of Nagpur Municipal Corporation and the misappropriations into Star Bus contract. They requested him to take charge of administration of Star Bus so that the life-line of Nagpur runs smoothly while giving employment opportunities to poor and unemployed youth. This will prevent the Star Bus Contractor to have his whims and fancies fulfilled and the citizens can get a better transport facility.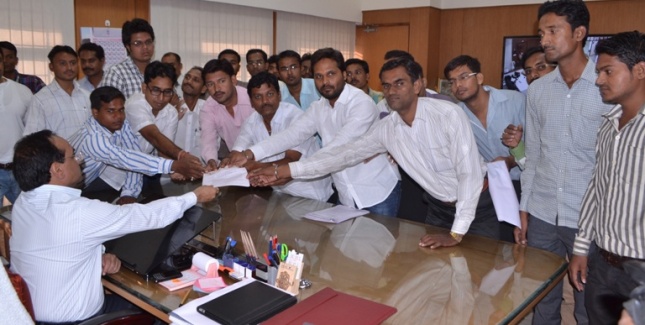 They also wanted to attract the attention of the Municipal Corporation on some pressing issues of the city.
In the General Body Meeting, Vanshnimay Company was given the contract to run the Star Bus. This decision was done after manipulating the house and the decision of giving the contract was Okayed. An FIR should be filed against the erring officials.
The city roads system has completely collapsed. This can be observed by the big pot holes on almost all the roads. This in spite the fact that Nagpur Municipal Corporation spends crores of rupees every year.
The mismanagement of the Street Lights too is deplorable. Thousands of Street Lights erected on the city roads are nonoperational. This in turn is causing many road mishaps and incidents of chain snatching too have increased on dark patches.
The General Secretary of Nagpur City Youth Congress Ashish Narendra Pande has appealed to the Municipal Commissioner to look into the matter and get some changes done as a Deepavali Gift to the denizens of the city.