Occupancy levels at its peak
Nagpur News.
Hoteliers are doing brisk business with the cricket fever reaching its peak in the city. Upscale hotels including Sun n Sand, Radisson Blu, The Pride Hotel, Tuli Imperial and others are witnessing a sharp swell in their occupancy levels as the cricket match between India and Australia is drawing near. Most of these top-end hotels are full to the brim with cricketers, celebrities, media crew, commentators, support staff and off course the cricket buffs who have come from all over the country to watch the match scheduled on Wednesday are landing here.
"We are seeing a surge in occupancy levels since yesterday. At present, it is at 90 to 95 percent which is quite high as compared to the usual occupancy levels ," says Ashish Chopra, Front Office Manager at Sun n Sand. The average occupancy is between 50 to 55 per cent. Almost half of the plush hotel has been taken over by BCCI crew members, 55 rooms to be precise, said an upbeat Chopra. "The commentators including Sunil Gavaskar, Mathew Hayden, Sivaramakrishnan and Ravi Shastri will be checking in the evening," he said.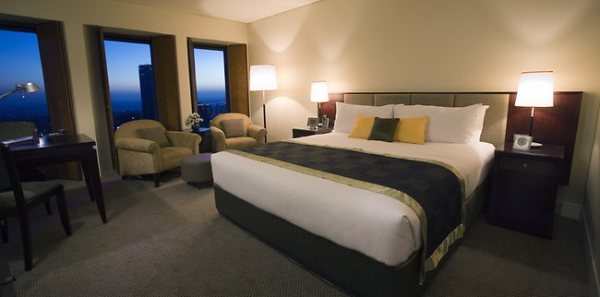 For The Pride Hotel, which is nearest to the airport, the occupancy has zoomed to 100 per cent, though the normal occupancy is at 75 to 85 per cent. "We do not have a single vacancy," said Jeetendra Patle, Assistant Front Office Manager, at The Pride. Celebrities including Saurav Ganguly, Navjot Singh Sidhu, Allan Wilkins and Harsha Bhogle are putting up at the hotel. Many cricket lovers or spectators have arrived from Mumbai, Delhi and Kolkata to watch the high profile event, said Patle.
Tuli Imperial at Ramdaspeth too is witnessing a growth in business. "We were sold out from October 16 onwards," says Ramakrishna, Front Office Manager. "The corporates and senior members of the media like Star Sports and ESPN are staying with us. Also, known playback singer Javed Ali is putting up at our hotel," he said.
Ramakrishna said that apart from cricket the hotel is mainly occupied by corporates. "October is the peak season for us when there are lot of conferences and seminars," he said. Tuli Imperial also comes as handy for guests who are mostly interested in wildlife tourism as it also has resorts in many of the wildlife parks including the ones at Kanha, Pench, Bandhavgarh, etc. The average occupancy at Tuli Imperial is at 60 to 70 per cent which has jumped to 80 per cent, informed Ramakrishna.
Hotel Centre Point, which has recently renovated itself, is seeing an occupancy of about 60 per cent.