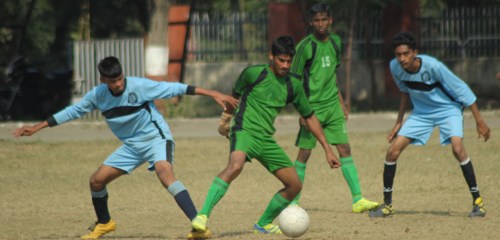 Nagpur News.
Nagpur City Club thrashed Taj Sporting 3-1 to make it to the top two in the NDFA organized Meghe First Division Football Tournament on November 4,2013. Taj Sporting managed to secure second place in preceding match but lose to Nagpur City Club in today's match.The tournament is underway at Police Line Takli ground.
Sameer Sheikh drew the first blood for Nagpur City Club in the 8th minute. Nagpur City Club maintained the 1-0 lead till the second half.
In the second half, Taj Sporting made a breakthrough as Mohd. Kaleem levelled the scores 1-1 in the 8th minute. But, Taj Sporting could not hold Nagpur City Club for a long time as Rahul Sahani doubled the lead in the 66th minute to make it 2-1. One minutes later, Sagar Mishra scored a goal for NCC to ensure a 3-1 win. Yugal Gedam of NCC was warned with yellow card in the 85th min. Shahnawaz Ali (6th min) and Mohd. Kaleem (13th min) Taj were also cautioned with yellow cards during the play.
In the eliminator match, Central Railway Institute beat Al-Aziz Sports Club 3-2. Mohd. Faizan of Al-Aziz found the net in the 39th min. Rajat Thakur of Central than made a goal in the 44th min. This was followed by two goal by Pankaj (67th min) and Kunal (75th min). Lastly, Amir Patel of Al-Aziz tried to make extra goals but only scored a lone goal in the 86th min and Central Railway clinched the victory. During the proceedings, Ronald Rampuri of CRI warned with one yellow card wherein Waqar Ahmad Ansari 88th min of Al-Aziz shown a red card for his rough game.
Senior Division 
Meanwhile, Ansar Club have cruise the first qualifier match beating Rahul Brothers 2-1 in the NDFA-organised First Division Tournament. Ansar Club scored two goals through Mohd. Imran and Faizal Pasha in the 82nd and 79th min. Earlier, in the first half Sal Sabil Ali of Rahul Brothers earned a single goal in the 18th min.
Sayeed Anwar (18th min) and Tarique Ansari (79th min) of Ansar were cautioned with yellow card during the match. However, Anuj Gorey (23rd min), Anthony Peter (27th min) and Amit Naidu (81st min) of Rahul were also penalized with yellow cards by match referee.
Schedule for tomorrow's matches :
Meghe Senior Division
No match tomorrow.
Meghe First Division Position of teams.
Qualifier 2. Taj Sporting v/s Central Railway Institute at 8.30am on police ground.
Darda Second division League
5-12-2013
1st match : SBFC Kandri Mines v/s Avengers FC at 8.30am on Ajni ground.
2nd match : Ideal FC v/s Young Boys at 9.30am on Ajni ground.