Nagpur citizens salute Great Maratha King Chhatrapati Shivaji Maharaj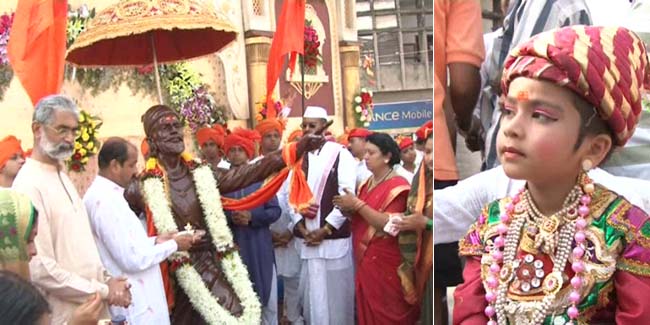 Nagpur News: The Nagpur citizens paid their glorious tributes to Great Maratha Warrior Chhatrapati Shivaji Maharaj on his 340th ceremony of Rajyabhishek (Coronation or Enthronement) with the somewhat matching ways of the Great Maratha King as far as his legendary brave actions were concerned.
The magnificent statue of founder of Hindvi Swarajya Chhatrapati Shivaji Maharaj at Gandhigate Square in Mahal area of Nagpur was the main plave of celebrations. The "Abhishek" of the King's statue was done by pouring 500 liters of milk in roaring chanting of mantras. In the morning a "shobhayatra" (Procession) with Shivaji's portrait was taken out and a dozen women performed Aarti of the portrait. An exhibition of the Shiv Kalin (From Shivaji's era) battle style of exercises like wrestling and swordshield games were performed by men and women. Thousands of citizens participated in the programme to salute the Great Maratha King.