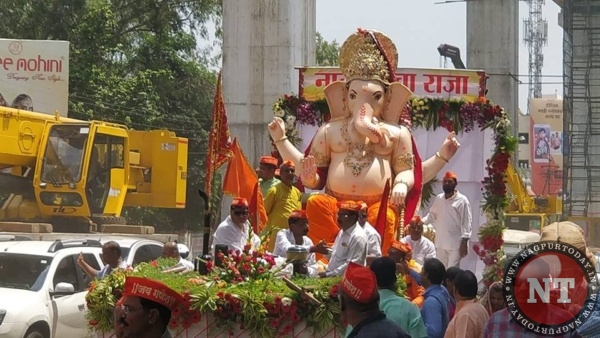 Nagpur: With the 10-day Ganesh Festival two days away, the atmosphere has gone religious. The streets in Nagpur city have started witnessing large Ganesh idols being taken to various Sarvajanik Mandals.
On Tuesday, the gigantic idol of famous Nagpur Cha Raja was taken out in colourful procession and will be installed in tastefully decorated pandal by Nagpur Cha Raja Shree Ganpati Utsav Charitable Trust, near Nagnadi Bridge, Reshimbag. The procession marked traditional fervour and gaiety.
Devotees welcome the Elephant-headed God, also called Lord of Wisdom, Vighnaharta and several other holy names, to their homes and Sarvajanik Mandal pandals amid fanfare as the 10-day-long festival commences this year on Ganesh Chaturthi, September 13. The festivity will come to an end on Anant Chaturdashi, September 23.
Lakhs of homes and hundreds of pandals will be abode of their most beloved and venerated deity, Lord Ganesh during His 10-day earthly sojourn. The masterly-sculpted idols will adorn in beautifully decorated homes and pandals across the city.
The city has decked to the celebrate the much awaited festival in all its grandeur. Preparations for the festival are in full swing across the city. Lord Ganesh is believed to bestow good luck and remove the obstacles from the life of an individual that is why He is also called Vighnaharta by devotees.
The hussle-bustle at historically famous Chitar Oli area in the city, the artisans are giving finishing touches to the hundreds and hundreds of Bappa idols that would be brought to residences of devotees and pandals of Sarvajanik Mandals for the Lord's 10-day earthly voyage. In fact, preparations to make the idols begin months in advance. Devotees and Sarvajanik Mandals are gearing up to welcome the Lord of Wisdom in a befitting manner. Every household is being decorated with dazzling decorations. Setting up pandals have been started in right earnest. Apart from the idols, the pandals are also colourfully decorated, cultural events are organised and people participate in them with keen interest.
The citizens can now witness dozens and dozens of stalls set up at every market place, thoroughfares and nook and corners of city with vendors awaiting devotees to take home their choicest, beautiful idol of Lord. Mandals take large large idols in procession with band baja, dhol tasha and devotees swinging to the musical beats. The festivals will be celebrated with great devotion and a splendid cultural display, combined with great fanfare.
When it comes to the 10-day festival, you can well imagine the many mouth-watering delicacies offered to Lord Ganesh and seek His blessings. The dishes prepared during this festival vary from day to day, with Modaks and Laddoos being the most popular. Apart from Modaks and Laddoos, there are other sweets and savouries that devotees love to prepare as prasad or bhog. Puran Poli makes for one of the most important and popular sweets during the festival. The amazingly tasty dish is what you need to make next after modaks.
The festival will culminate on September 23, the days is also called Anant Chaturdashi. Idiols of Lord Ganesh are immersed in water bodies. These days, green immersion is buzzword. The civic authorities, voluntary organisations take a number of measures for eco-friendly immersion. Artificial water tanks are placed at every locality for devotees to immerse the idols instead of lakes and rivers. Preparations are also made at lakes namely Futala, Ambazari, Gandhisagar, Sonegaon, Sakkardara and at other places for pollution free immersion.