Nagpur: The city of Nagpur is alive with jubilation as Chandrayaan-3, India's lunar mission, achieves a triumphant landing on the moon's surface. The Indian Space Research Organization (ISRO) has marked another significant milestone with the successful descent of Chandrayaan-3's Vikram lander onto the lunar far side, captivating the nation with this awe-inspiring achievement.
Amidst a sea of celebratory events, Nagpur stands as a beacon of pride, reflecting the elation that has spread across the nation. Drumbeats resonate through the air, and traditional dances fill the streets, as people of all ages come together to celebrate this momentous occasion. The youth of Nagpur, brimming with patriotic fervor, raise the Indian tricolor flag high, chanting "Bharat Mata Ki Jai" (Victory to Mother India) with unwavering enthusiasm.
Chandrayaan-3's landing success is a testament to India's resolute commitment to space exploration. This achievement positions India as the first country to achieve a successful landing on the southern pole of the moon, solidifying its reputation as a space exploration powerhouse. The precision and accomplishment of Chandrayaan-3's landing mark India as the fourth nation globally to achieve such an extraordinary feat.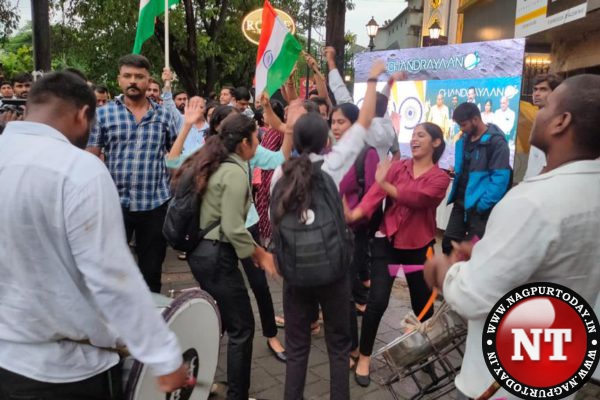 The outpouring of joy during this celebratory time mirrors the collective prayers of approximately 1.4 billion people, all of whom wished for the mission's success. The relentless dedication of ISRO's 16,500 scientists and researchers over the past four years has been instrumental in turning this dream into reality.
The Chandrayaan-3 mission was launched on July 14, 2023, at 2:00 PM, from the Satish Dhawan Space Centre in Sriharikota, Andhra Pradesh. This remarkable feat underscores Nagpur's and India's remarkable strides in space technology and exploration.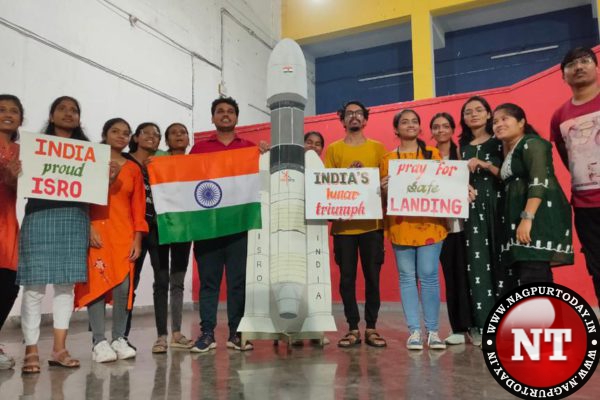 As Nagpur revels in this accomplishment, the profound impact of India's advancements in space exploration resonates far beyond its borders. Chandrayaan-3's success not only elevates India's status on the global stage but also sets the stage for even more ambitious explorations, showcasing the nation's boundless potential in the realm of science and technology.