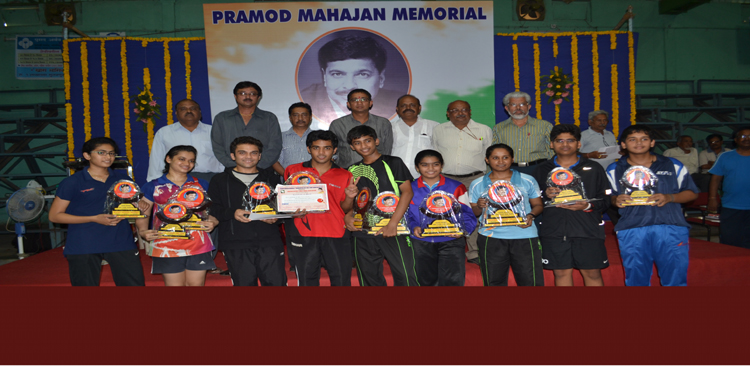 Nagpur : Nagpur lad second seed Devdutta Fadnavis loss to top seed Ravindra Kotiyan in junior boys final in ongoing Pramod Mahajan Memorial 5th Maharashtra Ranking Table Tennis Tournament organised by Nagpur District Table Tennis Association (NDTTA) at University's Subhedar hall, here on saturday.
Devdutaa thou started with a wining note loss to Ravindra 2-3, score at the end of the day read:
8/11,11/4,11/9,11/7,4/11,11/8
In the girls section,Dyuti Patki(MSD) [Seed – 8] Bt Sanika Divekar(THN) [Seed – 2] by 11/7,10/12,20/18,12/10,11/8 to win the tournament.
In the youth girls section,Shweta Parte(MCD) [Seed – 2] Bt Charvi Kawle(MSD) [Seed – 4] by 4/11,11/6,11/8,11/4,6/11,11/7 were as in Youth Boys Ravindra Kotiyan(MSD) [Seed – 1] Bt Arbaz Sheikh(THN) [Seed – 7]by 11/7,11/4,11/9,11/8.
Mens single was won by Top seed Sanil Shetty(MSD) who defeated third seed Chaitanya Udare(MCD) by 11/4,11/6,11/7,11/7.
Women single was won by Mamta Prabhu(THN) [Seed – 2] who Bt Shweta Parte(MCD) [Seed – 5] 9/11,11/8,5/11,10/12,11/6,11/8,11/8.
Anup Rajurkar – Tournament convener, Deepal Dhote – President NDTTA,Adv. Ashutosh Potnis – Secretary NDTA,Shekhar Tongo – Vice President NDTTA,Deepak Kanetkar – Chief Referee,C.S. Kulkarni – Jt. Secretary NDTTA,Rohit Borwankar – Jt. Chief referee,Prafulla Nadedkar – Jt. Chief referee,Conducted the function and Vote of thanks.