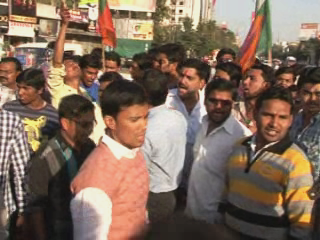 Nagpur News: Enraged over the gruesome killing of two Indian soldiers on border by the Pakistan army men, the workers of Bharatiya Janata Yuva Morcha burnt the flags of Pakistan at Telephone Exchange square in Nagpur.
The barbaric killing of the soldiers has fuelled widespread protest across the nation and the BJP youth morcha workers responded in sync with the wave of protests.
The party workers raised anti-Pakistan slogans and termed the killing as the cowardly act on the part of Pakistan.
Praveen Deshbhratar, secretary, BJYM said that Pakistanis have crossed the limits of cruelty while the Indian government is sleeping. This would not be tolerated in any case, he said adding that the government should act instantly and teach Pakistanis a lesson.