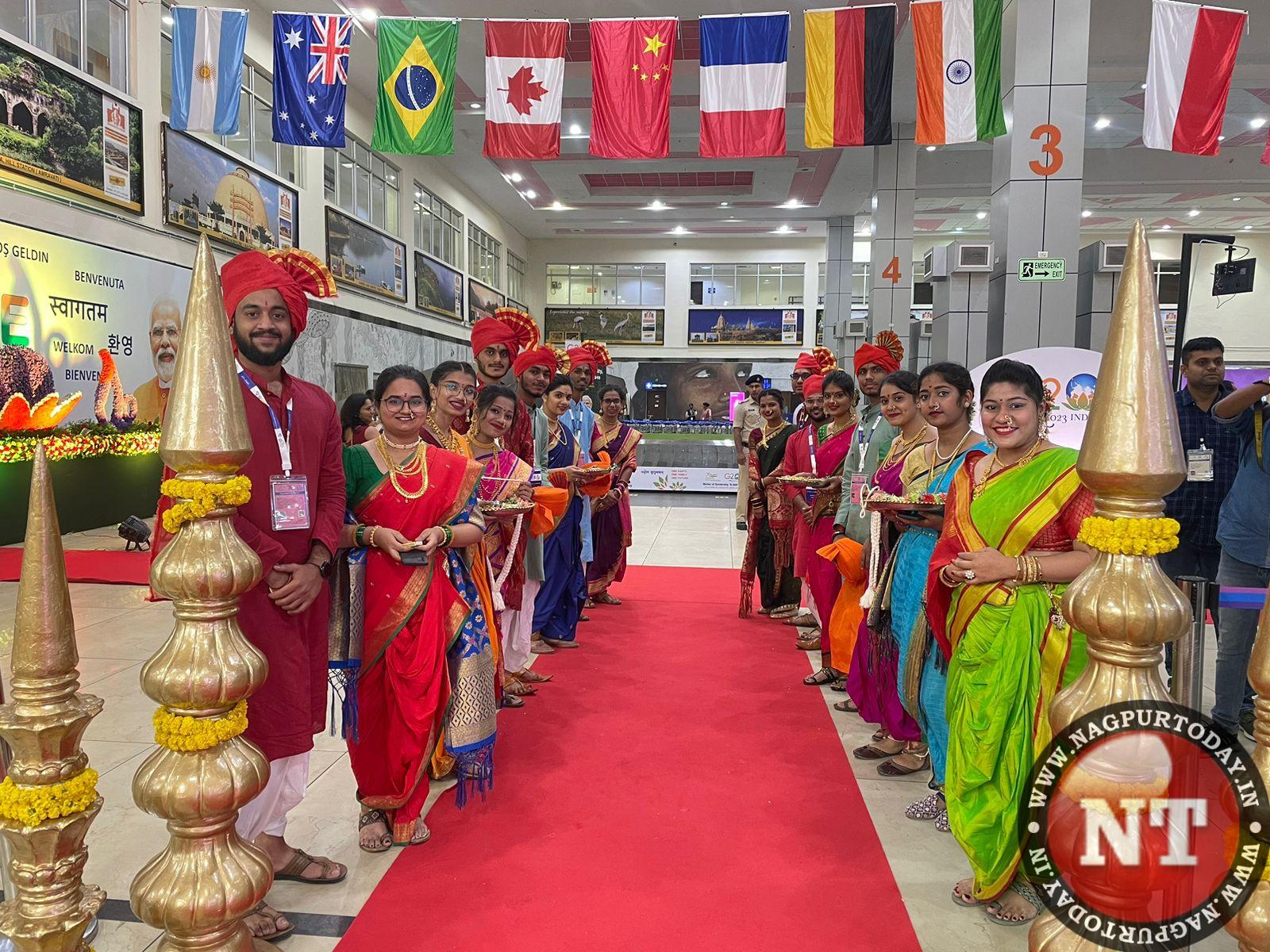 Nagpur: The Second Capital of the State according a grand welcome to the foreign delegates from G20 member countries on their arrival at Dr Babasaheb Ambedkar International Airport here on Sunday evening, to participate in the Civil20 (C20) inception meeting here beginning Monday.
Mata Amritanandmayi Devi, Chair, Civil20, and delegates got a traditional Maharashtrian welcome on their arrival at the airport. As soon as the dignitaries and the delegates arrived, girls wearing traditional Maharashtrian nine-yard saree and boys wearing traditional Maharashtrian dhoti, kurta, and 'pheta' welcomed them.
The girls performed 'Aukshan' of the visitors and presented them a Khadi 'sut-mala' (garland). The entire airport area adorned the beautiful ceremonial look. There were banana trunks, big bronze cones, light music of flute, tabla, and samvadini formed the ambience. The giant G20 logo illuminated with golden lights, flags of member countries, C20 logo, music of traditional band added different quality to the atmosphere.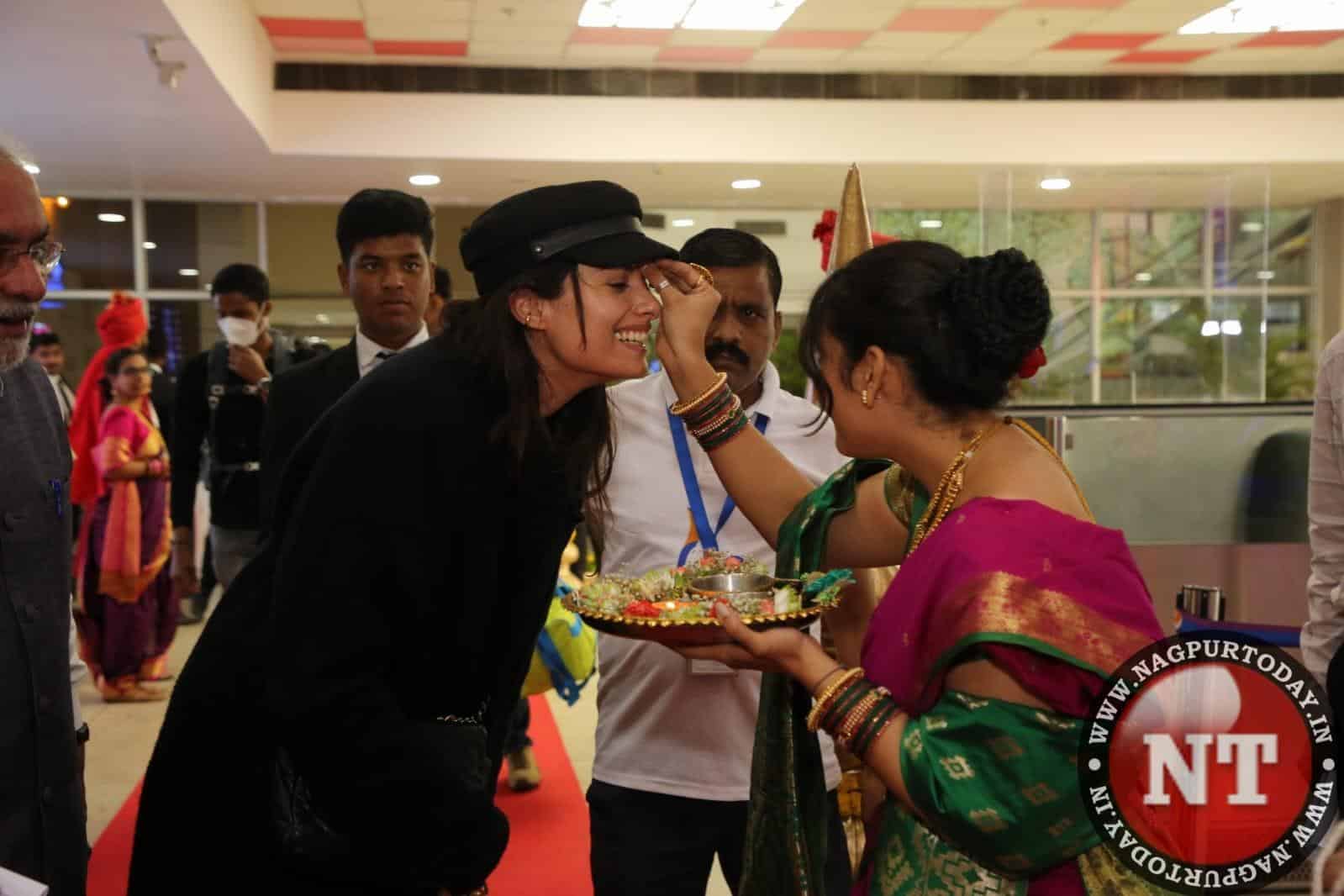 The visitors were offered orange juice and orange burfi that are specialities of Nagpur. Mata Amritanandmayi Devi blessed the children who held the banner to welcome the dignitaries and delegates. She kissed on cheeks and forehead of the children.
Many foreign delegates clicked selfies as they wore traditional Maharashtrian 'pheta'. The delegates posed for photographs, and saluted the flag of respective country in Indian style.
Civil20 Inception Conference:
The 3-day Civil20 Inception Conference being hosted by Nagpur, one of the official engagement groups of G20, will begin on Monday at Hotel Radisson Blu.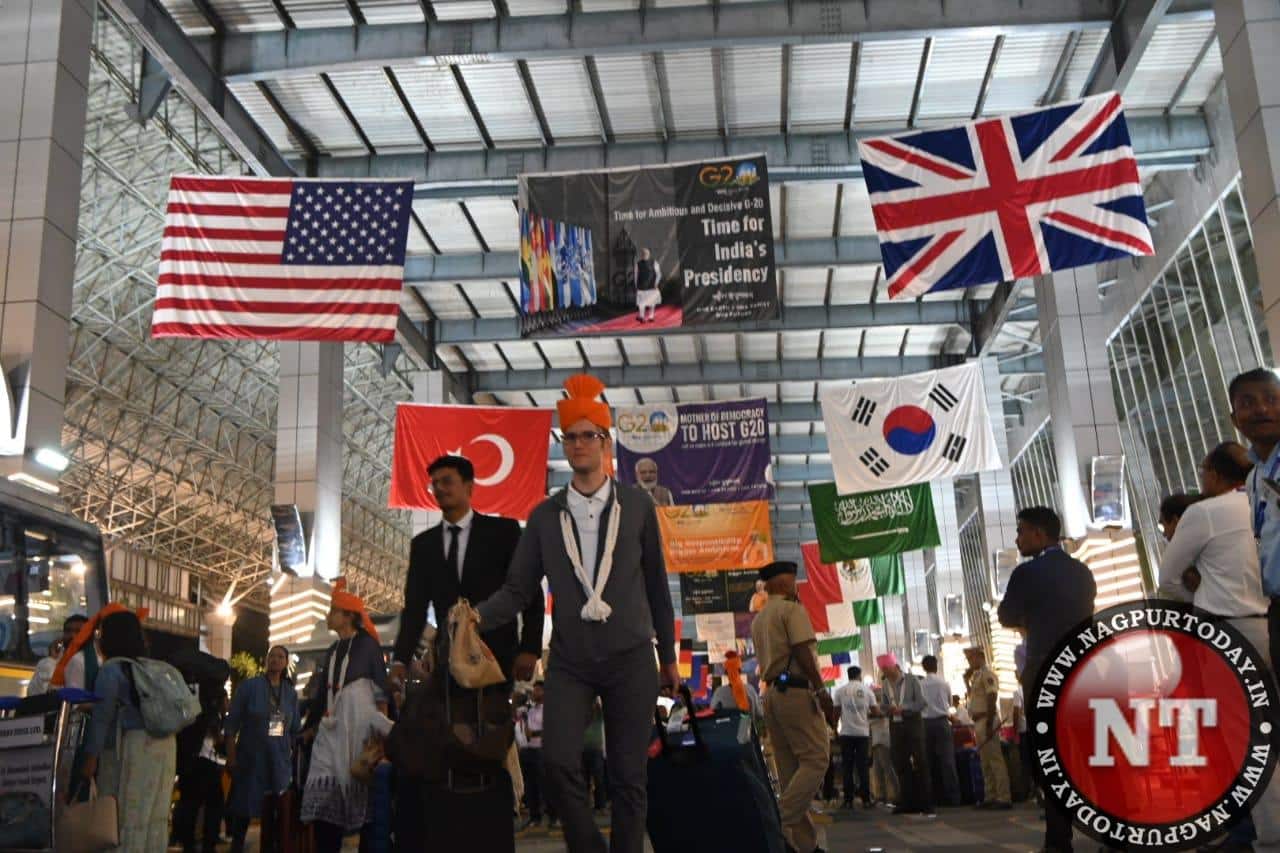 Mata Amritanandmayi, well-known spiritual leader, who is C20 India Chair, will inaugurate the international event at 3 pm. Nobel Laureate Kailash Satyarthi; Devendra Fadnavis, Deputy Chief Minister of Maharashtra and Chairman of Rambhau Mhalgi Prabodhini; Ahmad Maftuchan, Sherpa, C20 Indonesia 2022;Alessandra Nilo, Troika Member, C20 2023 and Gestos Brazil; Dr Vinay Sahastrabuddhe, Vice-Chairman of Rambhau Mhalgi Prabodhini and Patron, Civil20 Secretariat; Ambassador Vijay Nambiar, Sherpa C20 2023; Nivedita Bhide, VicePresident, Vivekananda Kendra, Kanyakumari will share the dais.
The Civil20 meet, one of the components of G20, will be discussing role of civil society organisations in steering the society towards achieving sustainable development goals is being held in Nagpur, on March 20 and March 21. Apart from the inaugural function, the meet will witness plenary sessions on both days.
On Monday, a session on 'Balancing Development with Environment' will be held from 11.30 am to 1.30 pm. Satyananda Mishra, former Chief Information Commissioner, India will chair the session. On Day 2, at 9 am, a plenary session II will be held on theme 'Civil Society organisations and promotion of human values'. Shyam Parande, Secretary, Seva International, will chair the session.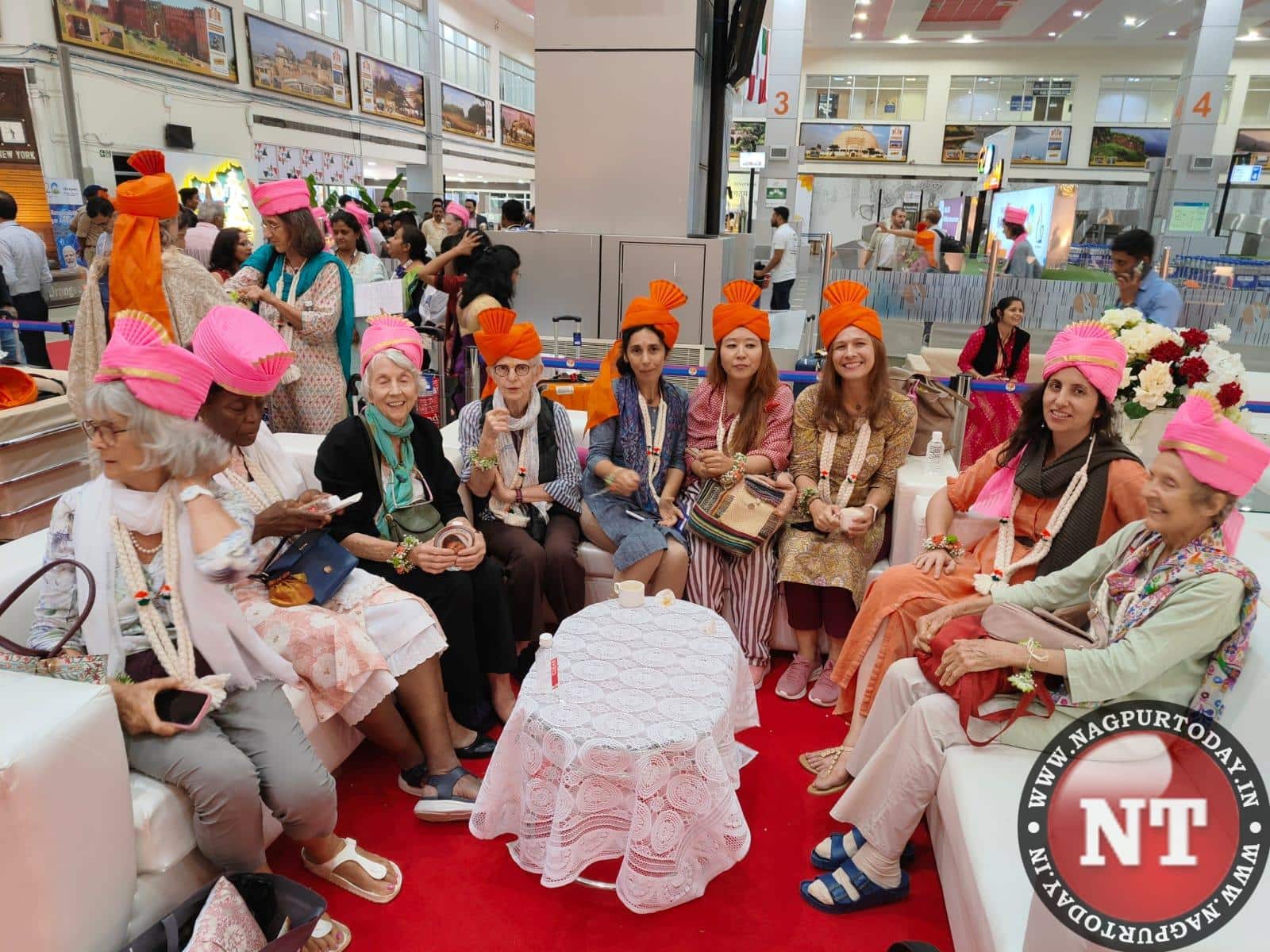 The session on 'Role of Civil Society in promoting human development' will be conducted from 11.15 am to 1.15 pm. Nivedita Bhide, VicePresident of Vivekananda Kendra, Kanyakumari will chair the session. The last plenary session on 'Civil Society Organisations as Drivers of Innovation and Technology' will be held at 2 pm. Ambassador Vijay Nambiar, Sherpa, C20 – 2023 will chair the session.
The valedictory function will be held at 4.30 pm. Ambassador Vijay Nambiar will chair the function. Dr Vinay Sahastrabuddhe, Vice Chairman of Rambhau Mhalgi Prabodhini and Ambassador Abhoy Thakur, Sous Sherpa, G20 India will share the dais. Fourteen working groups are constituted under Civil20 to facilitate idea sharing among the G20 nations. The Civil20 meeting being held in city has rich history of organisations working selflessly for several decades, assumes significance.
The working groups will hold meetings at various cities including Surat, Bhopal, Pune, Coimbatore, Haridwar among other places to undertake discussion themes of education, health, technology, environment, arts and crafts, democracy, human rights and sustainable development.The C20 meet is one among the 11 engagement groups of G20 and its objective is to present perspective of civil society, NGOs and the development sector to the G20 Heads of States.
Total 25 organisations from Nagpur and Vidarbha are participating in this conference and suggestions have been received from nearly 40 organisations through the 'Nagpur Voice' initiative. India, which is the host of the G20 conference, is organising conferences of various engagement groups throughout the year.
Initial meeting of C20 is being held in Nagpur. The ideas to be evolved through the churning at Nagpur will be included in the final proposal to be presented at the C20 summit to be held in Jaipur on July 30 and 31. About 60 representatives of civil society organisations from G20 countries and about 300 representatives from various civil society organisations in India and invited countries will participate in this conference. Nearly 1,000 organisations from Nagpur and Vidarbha had applied to participate in this conference of those 25 organisations have been selected.