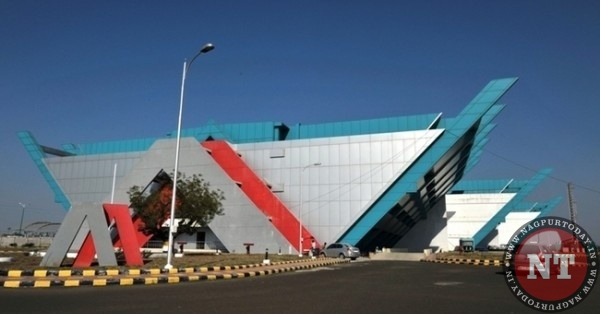 Nagpur: It has been pouring recently. Not just rains, but spate of programs signing MOUs, announcing new ventures/ hospitals/ flyovers for Nagpur. Any big or small happening is heralded with not just the presence of two of Nagpur's most important BJP leaders, Mr. Gadkari and Mr. Fadnavis but also some more Union Ministers thrown in for good measure. The desperation underlying these functions is perceptible and understandable.
Next year is election year after all, and nobody is fooled about the continued pathetic condition of Nagpur and other Vidarbha 'cities'.
Speaking of Nagpur, forget progress, it is a fast regressing city, which has gained nothing in lieu of the damage and destruction we have seen of existing roads and avenues and our sylvan way of living which has been affected by so called 'Vikas' and cosmetic quest of making Nagpur 'smart'! (All our pretense of smartness and development were literally washed away with the first torrential rainfall we got this monsoon.)
What has been left in its wake are cesspools of stagnant waters breeding flies and mosquitoes which will no doubt open the floodgates for many ailments like dysentery and diarrhea, cholera, Malaria and Dengue. (And no, we do not have adequate hospital facilities in the Govt./ public sector to treat them; but private hospitals will make a killing.)
Once upon a time, there was a period when our Government Medical College was supposed to be the biggest and best in Asia – as we loved to boast! – but we know that lack of vision, lack of funds and neglect has seen it deteriorate badly. As have all other Institutions and establishments we were known for.
Remember, Nagpur is historically one of the oldest cities of Bharat / India. We can trace our origins back to 3000 years, in the B.C. era. During the Bhonsles rule Nagpur kingdom stretched from almost coast to coast. Bengal, Orrisa, Narmada valley and up to Hyderabad in the south… all were conquered by Marathas at some time or the other turning the erstwhile Gond state into one of India's biggest.
From 1853 to 1861, the Nagpur Province (which consisted of the present Vidarbha region and Chattisgarh and M.P.) became part of the Central Provinces and came under the administration of a commissioner under the British central government, with Nagpur as its capital. Berar (Varhad, which had been part of Hyderabad state till then, was added in 1903. The advent of the Great Indian Peninsula Railway (GIP) in 1867 spurred its development as a trade centre.The Tata group started the India's first textile mill at Nagpur, known popularly known as "Empress Mills" as it was inaugurated on 1 January 1877, the day queen Victoria was proclaimed Empress of India. (The mill closed its shutters long ago, and the very sad Empress Mall has come up in its place, with its even sadder Empress City whose residents are a disappointed, heart broken lot.)
Nagpur was one of the Jewels in the British Crown!
Not just the first Textile Mill or one of the first Railways (Nagpur Bengal Railways) Nagpur was adorned with many benefits then. We had the RBI Building, GPO, India's first Fire College, one of the first Engineering and Technology institutes (LIT), one of the first Agriculture colleges which developed Maharaj Bag, the GMC and one of the best laid out, modern cities with excellent, well planned streets and avenues.
In short, we had all the infrastructure in place to become one of the country's biggest metropolis, till we were literally 'annexed' from C.P. and Berar by the state of Maharashtra. In the 5 + decades since then Nagpur, and Vidarbha have gone from being the most prosperous to the most backward and poor areas of the state.
Since 1960, it has only been a story of regression and being overtaken not only by Hyderabad – which was smaller than Nagpur once – but also cities like Indore, Bhopal and now even Raipur!!! ( Don't believe this – Raipur has dozens of 3 star and 5 star hotels, Nagpur less than 5). We have mentioned Bhopal, Indore and Raipur since once Nagpur was the capital city that ruled over all these territories.
The sad symptoms of Nagpur's decay:
The Nagpur Airport – Not many know but the Nagpur Airport is exactly 100 years old as of 2018!
The Nagpur airport was commissioned during the First World War in 1917-18 for the RFC/RAF. The old buildings were renovated during the Second World War, when it was used as a staging airfield by the Royal Air Force (RAF). It was transferred to the Indian Government when the British left. Due to brisk traffic, new terminal buildings featuring facilities of refreshment, retiring rooms, restrooms, book stalls and visitor's galleries were constructed in 1953.
Sonegaon airport was the hub of the unique "Night Air Mail Service" wherein four planes left from Delhi, Bombay, Calcutta and Madras every night with a mail load from their region and returned to their home base in the early morning, after exchanging the mail at Nagpur. The service was operated from January 1949 until October 1973.
Today, this airport is struggling to find players in the private sector to take it over and run it. We have been hearing 'news' of its imminent privatization since 2015, but no deal has been finalized yet. Prospective investors compare it with airports of not even Grade 2 but Grade 3 towns now!!
Such is the non development we have seen of this once-grand-city. We were promised a lot of sops over the years, but all failed
But the cake for failed promises, with a hundred candles on it, must go to MIHAN.
Here are the 'highlights' of MIHAN story –
102 Companies promised to come to MIHAN and were allotted land but only 35 have come. 67 are on paper only. Two big companies started and shut down.
Sad demise of the much touted First City project where hundreds of customers, many NRI Nagpurians, have their life's savings sunk.
In the SEZ, only for exports park, 77 companies were to come, only 22 have begun work.
There is no doubt that both Gadkari and Fadnavis, both earlier fierce proponents of separate Vidarbha, have been working hard to infuse life into this 'dead project' but the results have led to some bloopers instead of success stories.
Take for instance Patanjali project. The wily Baba and his Acharya, were coaxed and convinced and cajoled to come to MIHAN. Ultimately, there were given the sop of much land at more than 50% concessional rate in both SEZ and non SEZ areas with the hope that it would lead to lot of employment for people across all strata. ( 10,000 was promised within the year, if we remember right.)
As of now, as Nagpur Today had reported exclusively, just a compound wall has come up, with no sign yet of the proposed Food Park anywhere. (It will be almost 3 years now since 'work began…')
The ONLY direct outcome of the 'cheap land' going to Patanjali is that land that was once Rs. 60 lakhs per acre has gone to Rs. 70 lakhs ( in SEZ); and outside has gone to Rs. one crore 16 lakhs per acre!!
So prohibitive is this price that a project Horiba of Japan, that was supposed to come to MIHAN has preferred to go to Butibori instead.
The sad part is that the most downtrodden and weak sections of society have paid the price for MIHAN.
Sunita Mudaliar
Executive Editor