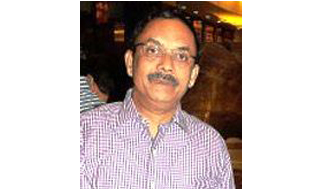 Nagpur Today spoke with city- based Gastroenterologist Dr. Shrikant Mukewar, about the day- to- day experience and challenges of his popular and busy practice.
Following are excerpts from the interaction:
Meghna: How did you become interested in medicine? What made you chose gastroenterology as your speciality?
Dr. Mukewar: There is no particular incident as such that prompted me into medicine. I think I wanted to be a doctor since childhood.  Quite a few members of my family, including my father, were doctors. I think that influenced my decision. Similarly, my career choice influenced both my sisters to become doctors as well. It was my first choice for a profession, because I could always see the nobility in it and the respect it commands. I initially wanted to take up Cardiology as my specialty, and consequently went to pursue my post- graduation in Chandigarh. The head of the Cardiology Department there suggested some of us to start a "new" line of medicine, Gastroenterology. He spoke of the revolutionary new developments in the field, like endoscopy. It fascinated me. I was the first gastroenterologist in Nagpur city, thirty years ago.
Meghna: Is a case in the course of your career that you are particularly proud of?
Dr. Mukewar: I don't remember any particular cases, but there are many people I treat every day, with different kinds of painful or complicated problems. There are people who are unable to swallow food till we insert a tube into them and enable them. There are many things about the practice in general that are very rewarding.
Meghna: Chest burn caused by acid reflux is frequently confused with chest pain. Similiarly, minorheart attacks are sometimes dismissed as a case of acidity. How can a lay patient differentiate between these?
Dr. Mukewar: It is very difficult sometimes. If you are above the age of forty, and you have chest burn which is unaffected by antacids, you are suspect. If you have a stressful life, or have high blood pressure or diabetes, the chances are higher. There are also other signs such as pain in the left hand that we associate with a problem of cardiac origin. However, in younger patients below thirty five years of age, acidity is more common than heart attacks. But one has to always consider the possibility of a cardiac cause behind chest burns.
Meghna: Are there any particular diseases that you seen an increase in, due to lifestyle changes in recent years?
Dr. Mukewar: We are recently coming across diseases that are more common in Western countries, such as Crohn's Disease, with westernisation and related changes in diet. Stress and strain has increase, because of which we see a rise in cases of Irritable Bowel Syndrome and Acid Reflux.
Meghna: What ill- effects can excessive smoking and drinking have towards one's gastric health?
Dr. Mukewar: Alcohol is one of the most common causes of liver disease. Smoking leads to different kinds of cancer, such as stomach cancer, pancreatic cancer and liver cancer.
Meghna:  In your opinion, what are the most difficult or challenging aspects of your career as a gastroenterologist?
Dr. Mukewar: The most challenging part of my job is definitely ERCP (Endosopic retrograde cholangeopancreatography) . Sometimes, we have two remove stones in the stomach which have a diameter of two centimetres. We have to insert tubes through openings the size of an eye of a needle, to treat cancer in different areas within the digestive system. A small mistake or cut can cause bleeding or perforation inside the digestive system. This is definitely the most challenging part of my job.