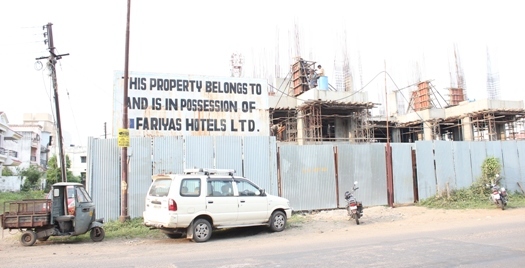 Nagpur News.
The contentious issue of granting fire NOC to Fariyas Hotels residential project at Khamla by Nagpur Municipal Corporation (NMC) has hit the deck once again with a vigilant citizen Harish Naidu dashing off a scathing letter to the Municipal Commissioner Shyam Wardhane to intervene in the matter.
Drawing his attention towards how NOC was granted despite violation of norms of National Building Code (NBC) and also of Development Control Regulations (DCR), Naidu appealed to the Municipal Commissioner to immediately cancel or withdraw the NOC granted to the Mumbai-based builder. It also raised the issue of high rise buildings and the safety of life and property of the people living there.
Naidu has pointed out main flaws and anomalies in the whole process of granting NOC to Fariyas Hotels from the documents provided by the NMC themselves which were obtained by him under the RTI Act. The letter also points out how Hotel Hardeo came to be constructed in flat 6 days according to NMC records.
A perusal of these documents suggests that none of the provisions relating to fire safety and refuge area were complied with in the high rise buildings with NMC preferring to be a silent spectator. The letter also highlights three investigative stories published by Nagpur Today on these sensitive issue dated Sept. 13th, Sept. 14th and Sept. 17th. The stories titled Collector winks at brazen violation of his own orders on Fariyas Hotel, MSEDCL's love for Fariyas and Fire Department's turn to show favour to Fariyas respectively exposed the administration's 'special treatment' meted out to Fariyas Hotels at the cost of gullible buyers.
In fact, the property where Fariyas' scheme is underway, along with others including Sonegaon lake, originally belonged to the erstwhile ruler of Nagpur Shrimant Raje Bahadur Raghoji Rao Bhonsle and was kept under the superintendence of Court of Wards since 1925. Despite this, several transactions have taken place on these properties right below the nose of the collector, who was the guardian of the property as Court of Wards.
Fearing infraction, the collector has himself, through a public notice, warned the general people not to deal in these properties. He even wrote a letter to the Registrar, Nagpur, not to register any sale deeds on these properties. "It is strange how the collector is allowing this to happen and is not taking any action," questioned Naidu.
About Fariyas project, the Chief Fire Officer of NMC has himself admitted that there is an issue of ownership of the land. Moreover, the application on which fire NOC was granted is unnamed, unsigned and undated. Apart from this, the building under construction has serious violations in terms of fire safety, which has been pointed out by the Fire Department itself.
"Such correspondences are an eyewash and an attempt to save their skins in case of future trouble as the construction is in full swing and the buyers opting for these flats may find themselves in deep trouble later," warned Naidu while speaking to Nagpur Today.
… Rohinikant Matey