More funds allocated for speedy completion of Nagpur Metro project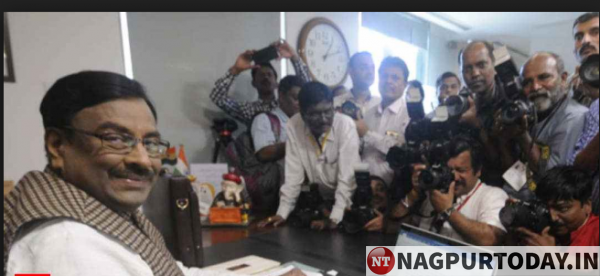 Nagpur/Mumbai: With an eye on Lok Sabha elections, Maharashtra Finance Minister Sudhir Mungantiwar on Wednesday tabled a farmer-centric State's interim budget for four months, April to July, in the State Assembly. No tax hike was proposed in the interim budget. Maharashtra Government will table the additional budget in its next session.
Here are the highlights:
* More funds allocated for speedy completion of Nagpur and Pune Metro projects.
* Work of land acquisition for Nagpur-Mumbai Samruddhi Mahamarg gains steam.
*The debt stock as percentage of GDP is expected to reduce to 14.82%, which was estimated to be 16.5%.
*Maharashtra Government puts total debt at Rs 4.14 lakh crore, initially estimated to be Rs 4.61 lakh crore.
*Rs 6895 crore for the PMAY or Housing for All scheme.
*Mobile phones to be given to all Anganwadi workers.
*A new scheme called 'Nav Tejaswini' announced for rural women entrepreneurs.
*Rs 2921 crore for Women and Child Welfare department.
*Rs 2892 crore for OBC Welfare Commission.
*Rs 9208 crore budgeted in total for all schemes for SC/ST population.
*Rs 2098 crore allotted for Rashtrya Aarogya Abhiyan.
*Rs 1021 crore given for Aayushman Bharat scheme.
*Rs 2400 crore for Swacch Maharashtra and Amrut Cities scheme.
*Rs 5210 crore for electricity subsidies to farmers and industries.
*Rs 6320 crore allocated to power department, of which Rs 1087 crore is for non-conventional energy.
*Rs 101 crore for development of state transport bus stands across the state.
*Rs 26 crore for the Sagarmala Project under which jetties have to be built at various spots.
*Rs 3700 crore for roads under hybrid annuity.
*Rs 8500 crore given for development of roads and highways.
*Rs 90 crore issued for making skill empowerment of youth.
*Rs 900 crore issued for electricity connections of agriculture pumps.
*Rs 3498 crore given for various agriculture related purchase subsidies for farmers.
*Rs 1500 crore allocated for desilting wells and minor ponds.
*Maharashtra government allocates Rs 8733 crore for irrigation department.
*Gopinath Munde Accident Yojana will be extended to farm labourers too. Under this scheme, farmers are insured against any accident at a very low premium.