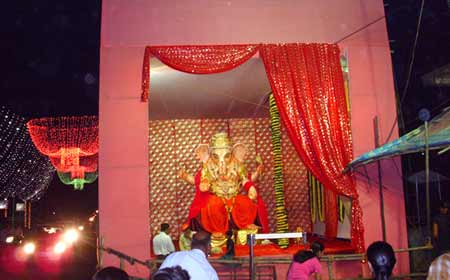 Nagpur News: Notwithstanding the ecstatic moments and much fanfare by the Sarvajanik Ganesh Mandals in welcoming Lord Ganesh, the God of Wisdom, the Mandals should also be ready to "Welcome" the Squads of Mahavitaran (MSEDCL) and Spanco. The "Damini Dasta" (Women's Squad) has been specifically set up to curb and catch power stealer Mandals. The MSEDCL and Spanco, in the past, found many Sarvajanik Ganesh Mandals stealing power by directly connecting electricity lines with the power source of MSEDCL and Spanco, the poles. This time, however, the power companies have decided to curb the practice with heavy hands. The illegal power connections also pose hazards like fires, electrocution and others.
The "Damini Dasta" will visit all Ganesh Mandals and request them to get authorized power connections. Nagpur city has a total of 1032 registered Sarvajanik Ganesh Mandals. However, shockingly, only 150 Mandals have applied for authorized electricity connections. Now, the "Damini Dasta" would scan the remaining Mandals and see from where they have received power connections for the decorations and illuminations.
The MSEDCL has given the responsibility of "Damini Dasta" to its women employees while Spanco Squad consists of employees from its Vigilance Department. Both the Squads first request the Mandals to get legal connections for power supply. If the Mandals refuse their request, then the Squads would register an offence against such Mandals in accordance with the 2003 Electricity Act and the Mandals are likely to face power cuts.
According to reports, the MSEDCL and Spanco have directed the Junior Engineers of Power Sub-Stations in respective areas to carry out inspections of Ganesh Mandals.