MPCC demands ouster of Ministers Mungantiwar and Tawade

Sexual exploitation of a aldy doctor and other criminal issues of GMCH, Nagpur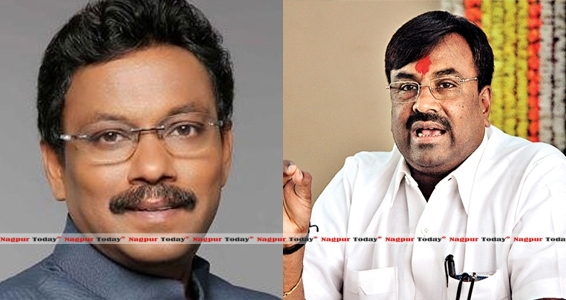 Nagpur: The city unit of Maharashtra Pradesh Congress Committee (MPCC) has demanded immediate removal of State Finance Minister Sudhir Mungantiwar and State Higher and Technical Education Minister Vinod Tawade for ignoring the seriousness of incident of sexual exploitation of a lady doctor and other criminal issues of GMCH, Nagpur, and failing to take strict action against Dr Vyawhare.
The MPCC decision was revealed during a press conference held at Gandhi Bhavan on December 4, 2015, here in the city, informed Sachin Sawant, media incharge, through a press note.
The media was allegedly informed that HoD, Forensic Science, GMCH, Dr Makrand Vyawhare had sexually exploited a lady doctor of GMCH Nagpur and also committed mental torture to another intern doctor (medical student) to such an extent that the student had attempted suicide bid. The lady doctor had later filed a complaint with Ajani police station, but police action is reported to be taken.
According to Sawant, there were several complaints of students against Dr Vyawhare, and as a result, GMCH Dean Dr Abhianyu Niswade had constituted an eqnquiry committee which found Dr Vyawhare guilty of charges levelled against him. Yet, Education Minister Tawade's special executive officer issued orders for cancellation of equry committee, just be the guilty Dr Vyawhare happens to be brother-in-law of Finance Minister Mungantiwar.
Finding that MARD was forming pressure for action against Dr Vyawhare the Minister for Higher and Tech Education assured that he would take suitable action, and rather than taking action, Minister Tawade ordered transfer of Dy Vyawhare to Chandrapur GMCH under care of Chandrapur Guardian Minister Mungantiwar, and also transfers of Dan Dr Niswade and another professor of GMCH.
Congress worker Trisaran Sahare moved a PIL in Nagpur Bench of Bombay High Court challenging the transfer orders issued by the state government, and the High Court stayed the transfer of Dr Niswade and other professor. Thus, the entire episode against Vaywhare is being tried to hush up. Even Chief Minster whom the delegation of MARD and Congress had met could not do justice to complainants.
MPCC finding both Ministers, Mungatiwar (who is brother-in-law of guilty Dr Vaywhare) and Tawade (who is at fault for not meting out justice), has demanded removal of both the ministers from cabinet.