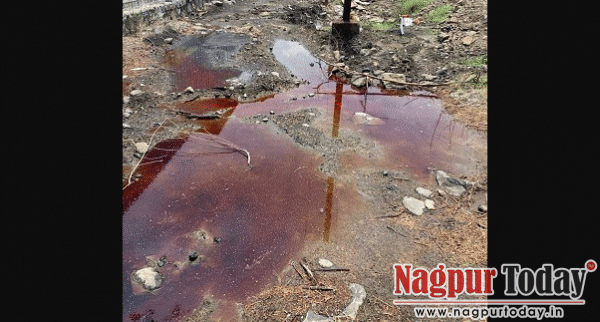 Nagpur: The Maharashtra Pollution Control Board (MPCB) has issued closure notice to Crystal Crop Protection Limited for discharging red colour effluent into a water body in Butibori on Wednesday. MPCB issued the closure direction under Section 33A of Water (Prevention and Control of Pollution) Act, 1974 and 31A of the Air (Prevention and Control of Pollution) Act, 1981 for polluting the water body and non-compliances of consent conditions and violation of Zero Liquid Discharge (ZLD) condition. It was second closure notice issued by MPCB to a company in Butibori in 15 days. A few days ago, the Board had issued a closure notice to Shilpa Steel and Power Ltd, MIDC, Butibori for releasing hazardous water waste in Wena river.
It may be mentioned that MPCB had received a complaint from Maharashtra Industrial Development Corporation (MIDC) in the month of May regarding violation of ZLD and discharge of effluent by Crystal Crop Protection Ltd. in water bodies and nearby areas. On Wednesday, Anand Katole, Sub-Regional Offier, MPCB under the orders of A M Kare, Regional Officer, directed Maharashtra State Eletricity Distribution Co. Ltd (MSEDCL) and MIDC to disconnect the electricity and water supply of Crystal Crop Protection Limited. MPCB officials had conducted an inspection on July 7 in which they observed the violation of ZLD condition by the company.
It also observed that that company was discharging red colour effluent generate from pesticides manufacturing process outside the factory premises, which ultimately meets into the water bodies and damaging the environment. The Board also observed that the company had failed to operate ZLD system regularly and also not submitted top-up Bank Guarantee of Rs 10 lakh. The company is a habitual defaulter and failed to achieve zero discharge continuously since November 2019. The Board has given sufficient opportunity to improve its operations of existing pollution control arrangements.