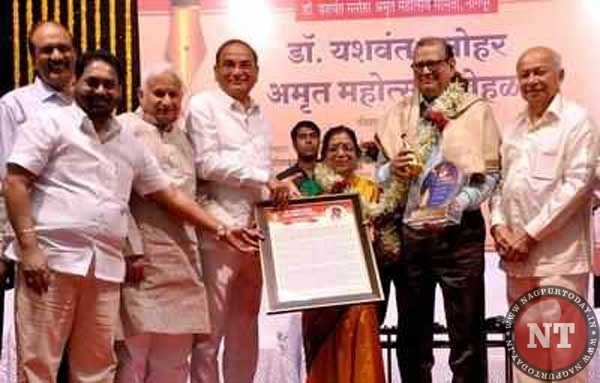 Nagpur: Known for excellence in the field of literature, social work, education and politics. Member of Parliament Janardhan Waghmare was felicitated with 'Dr Yashwant Manohar Award 2018' at Dhanwate Hall, Shankar Nagar, on Sunday afternoon.
The ceremony was organized by Dr Yashwant Manohar Amrut Mahotsav Samiti and Yashwantrao Chavan Pratishtha, Divisional Centre, on the 75th birth anniversary of noted writer and thinker Yashwant Manohar. The purpose was to acknowledge the contribution of stalwarts who are dedicatedly working towards bringing about a positive change in the society.
Apart from the man himself Manohar, former CM Sushilkumar Shende and former MLC Girish Gandhi were present among the dignitaries on the dais.
On receiving the award, Waghmare said, "I have always desired to bring about reforms in our society while being associated with different departments. But I have realized that for concrete results, every element of the society should improvise and move forward. Be it education, cultural, social, political, economic, technological or any aspect, every individual aspect should be checked and developed for the progress of the nation as a whole."
According to him, India has not been able to experience the much needed revolution yet. Waghmare hails from Latur which was a part of Hyderabad state under the Nizam. Some gloomy experiences in his personal life drew his attention towards 'slavery' after which he explored it.
He did extensive research on the plight of Indian Dalits and American Negroes and believed that their struggle was somewhat similar. Waghmare also studied the works of progressive leaders like BR Ambedkar, Shahu Maharaj and Mahatma Phule and induced their ideologies in his poems to spread their message.
"A highly intellectual Waghmare has proved his mettle in various domains and truly deserves this recognition," said PD Patil, senior member of Akhil Bhartiya Marathi Sahitya Sammelan, Pune, in his presidential address.