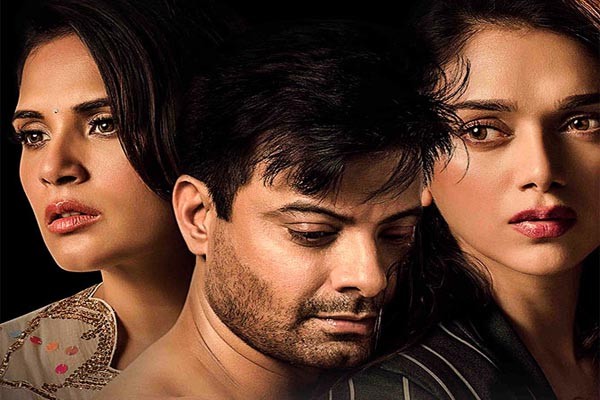 Now where did that come from?
Has Sudhir Mishra just given us Indian Cinema's first Soap Opera Classic — a Soap Opera for all our daytimes and all our nightly longings?
In its essence, his latest, Daas Dev, is a reimagining of Sarat Chandra Chattopadhyay's novel with more than one plot-point plucked from Hamlet. But what Mishra seems to recognise is how much his two source-materials resemble the stories we read in gossip magazines or the kind we tell each other in hushed voices by the water cooler.
(Once you drop the convenient reverence and read Shakespeare's words carefully, you would realise that he too cared equally about eternal truths and petty gossip).
Mishra does not fight schlock and because he still has quite a sharp instinct for 'those moments of pure art,' he manages to give Daas Dev a distinct pop-consciousness: This is a flawed, maddening, but consistently rewarding piece of work.
Daas Dev's directorial wheels may come off regularly — part of the movie is tonally messy; when the editing tries for swiftness the film ends up looking frenzied; and Chandni's (Aditi Rao Hydari) Voiceover feels like a high-schooler doing line readings of a great classic — but the movie has such a mix of original, oddball characters that together they give the narrative a sense of derring-do, a constant forward movement.
The actors are kept so busy that even when their roles are stereotypes, they manage to escape their typicality.
A small-time goon pleads with a politician (Rahul Bhat's Dev Prathap) but as he does so, he keeps chewing his paan casually. Later, when this goon shoots someone down, he grumbles, off the cuff, about bloodying his hands on a Tuesday.
Sudhir Mishra is out to subvert a cuddly theme, but he also identifies with the innocence of Devdas: He makes his hero a Devdas by temperament and a Prince Hamlet by fate.
After his father (Anurag Kashyap as Vishwambhar Prathap) explodes in mid-air and his uncle Avdesh gives him the wings, Dev Prathap grows up to be a man torn between two worlds: The righteous world occupied by Paro (Richa Chadda) and his dead idealist father, AND the world of politicians and political fixers.
Mishra is as cynical about Devdas' innocence as he is wistful.
And so, after guarding his innocence all through the film, when Dev finally loses it, Mishra sees it as proper justice to disrobe almost everyone important to Dev.
This for him is the cost of killing innocence.
Dev's disenchantment is his true coming-of-age, and isn't Devdas, the tragic text, when read backward, a coming-of-age tale?
I must warn you, however, that to enjoy Daas Dev, you may have to resist the temptation to walk out during the first 20 minutes of the picture.
It is in these 20 minutes that Sudhir Mishra tries to reactivate the echoes of Devdas and Shakespeare, taking us from the dustbowls of Uttar Pradesh to the club lights.
It's in this initial section, in which he shows us the excesses of Dev's life — the booze, the drugs, the sex, and the self-flagellation — that he takes a grand flop.
How do you document debauchery without being judgmental? Isn't that a question that has plagued all ambitious artists?
Fitzgerald wrote Gatsby's parties with hundreds and hundreds of specific details and we got the underlying message: It's a sad comedy.
Sudhir Mishra becomes Solemn Mishra when bringing to us the news of Dev Prathap's debauchery and it can tire you out, those first 20 minutes.
Mishra here photographs Rahul Bhat with his cheeks always smack up against the camera and Aditi Rao Hydari as if the nerves of her body were continually smoldering.
Rao's Chandni is robotically sexy — it's her big gig — and she uses her thighs like a drug of love.
Wade through those painful minutes, and you will understand that Sudhir Mishra was actually setting up the apparatus for the real gags to pay off.
And that happens when Daas Dev shifts back to the pastorals of Uttar Pradesh.
It's in the pastorals that Mishra crafts a mythic image of the country and its power structures.
He turns to the manners and mores of heartland politics, where politicians know each other's bedroom secrets as much as their next big political move.
In the land of good-natured romantics who don't get their due, Dev Prathap becomes a mere political lever to be pushed as the big boss deems it right.
Dev still plays the rugged card carefully, washing his face with tube well water en route to the interiors.
The character of Dev is like a pancake batter that was never meant to rise; and Sudhir Mishra and his writers smartly surround him with delicious, twisted, characters.
Enter Saurabh Shukla's Avdesh who spends a good part of his character-life in a hospital feigning a 'stroke' with priests outside performing rituals for his recovery. But it's Avdesh who will decide when he has recovered and the priests are warned of a 40% fee reduction in case the recovery is slow.
Saurabh Shukla is in that phase of his career where he just can't do anything wrong.
This is an actor who can turn even the slightest of body movement into a 'statement'. He warms up his shoulders in the hospital as he talks, and then fires a pistol after he has returned home — "just to check my reflexes, you see."
Notice how everything Shukla does in front of the camera these days is so finely balanced — one degree this way or that way and his performances could get termed as either 'listless' or 'overcooked.'
In this matter of delicate balance, the pudgy Shukla has to be, alongside the wiry Fahadh Faasil, India's finest actor right now.
He takes odd chances with his character here, such as washing his face when narrating to Dev, a story of betrayal (Sudhir Mishra pipes in helicopter sounds at this point), and Saurabh Shukla has, by then, left the pastorals and is dancing and leaping off the Broadway stage.
As Dev swings from Paro to Chandni, and from bed to bed, Sudhir Mishra doesn't let the storytelling turn stale (which has been the basic problem with Devdas and all its interpretations: The lack of momentum), and he starts telling the tragedy through the various rhapsodic comic types.
Vineet Kumar Singh makes an entry as Milan Shukla, nephew to local politician Ram Ashray (Vipin Sharma).
Milan is a lover spurned by Paro, and he still keeps his decency.
Sudhir Mishra's narrative inventiveness peeps through in Milan's back story which shows one of his minions kidnapping Paro just to impress their boss, and the boss, unimpressed, shoots him through the hand.
Mishra makes a running gag out of Milan Shukla's maintaining of total decency.
In the movie's best sequence, Milan visits Dev's home with a fresh bottle of alcohol in tow, unaware that his love, Paro, is inside, making love to Dev.
He is taunted into realising this bitter truth, but Milan still keeps his cool.
He is cool likewise when a band plays at Paro's wedding (Milan is not the groom), and he calmly asks them to not play.
It's a wonderful character and Vineet Kumar Singh never gives us much evidence of the animal hidden inside the professional manner, and so it turns our stomach to watch him explode during the closing stages.
Vipin Sharma's Ram Ashray of 'Sabjan Kalyan Party' (how's that for a party name — a party that promises to be everything to everyone, and thus nothing to no one), is a man who sidles up to ghazal singers, and treats the dirtiness of politics as a matter of fact.
When he asks Paro to say something, and she enquires if it isn't a lie, Ashray shoots back: "Of course it's a lie. But won't you say it?"
All through the movie I had the weird feeling that Sudhir Mishra knows his roots down to the pits, but his sophisticated characters, he comprehends only as outlines.
From Dalip Tahil's political fixer, Shrikanth Sahai as a devil who's just missing his horns to Chandni the cold kitten, Mishra's urban swingers all seem to be mere Page 3 cut-outs.
It's, however, in the courtyards, the green fields, and the tasteless political rallies that the black satirist in Sudhir Mishra awakens.
When a stone is hurled at Dev's mother at a rally as part of calculated campaign and when Dev takes to the stage and resumes the speech, it feels as though he's speaking from his own madness and emptiness. And yet, the crowd responds!
A portrait of Dev's father hanging on the wall has clearly been recreated to give it the appearance of those great leaders in history textbooks.
We see faint touches of the public subservience that makes possible the longevity of many of our politicians.
There's a beautiful passing shot of kids running after Dev's car: Merryfaces that follow their young leader. His car speeds away but their smiles don't let up.
Prabhunath (played by the much under-rated Deepraj Rana) has to be one of the scariest stooge characters in the history of Hindi cinema.
In a moment of glorious destruction, like many in Apocalypse Now, Prabhunath presides over a ghastly incident of land burning and massacre as he bumps off villagers by the numbers.
And yet, when Dev comes to have a one-on-one with this brute of a man, he uses his gang of women, including his 3 wives and 15 daughters, as a Bastille and hides behind them.
While it never quite reaches the heights of his Hazaaron Khwaishen Aisi, Sudhir Mishra here, as in that masterpiece, is trying to go beyond just showing us how our political class controls the mind of India.
By keeping his good humour throughout, Mishra takes us into the dreams and fears of our politicians, into their self-deceiving pitches, and he shows us their demons and angels.
Supporting this sturdy inner core is the outer story of Dev, Paro, and Chandni, the soap opera carrying a great drama inside its shell.
But Sudhir Mishra gives the schlock its due too; Richa Chadda's Paro adjusts her pigtails when taking a major life decision and cinematographer Sachin Krishn shrouds her in flickering bulb light as she takes in news of a personal tragedy.
As for Rahul Bhat's cleft-chinned Dev Prathap, he had to be a descendant of Devdas maybe because Devdas is the ultimate silly, a man disillusioned, above all, by the ways of the world.
And as Sudhir Mishra sees it, this is a world in which 'thinking politically' has become the new normal.
An enchanting character is that of Paro's mother, who out of nowhere devises a political strategy, and surprises everyone. She's one moment a timid housewife and the next moment, a power-hungry leader.
Sudhir Mishra is perhaps telling us that we are all politicians waiting for our chance at the podium and that it takes a real silly to see the absurdity of it all.
Rating: