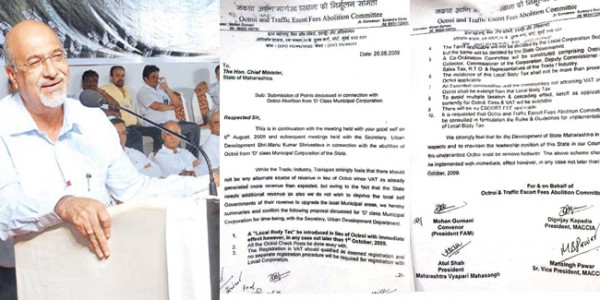 Nagpur News: Today Mid-day, a newspaper in Mumbai  revealed that LBT was asked by the very traders who are now protesting the same.
Here's a little titbit you can chew on when there's no food in the kitchen and the neighbourhood store is shut in protest of the local body tax: The man who commanded traders across the state to go on an indefinite strike to resist the implementation of LBT had, a few years ago, advocated implementing the tax.
Back in the year 2009, Mohan Gurnani, president of the Federation of Associations of Maharashtra (FAM), which is at the frontline of the agitation, had been mooting the concept of LBT.
In a letter submitted to the chief minister of Maharashtra on August 26, 2009 — a copy of which is with this paper — Gurnani, one of the signatories, stated, "A local body tax be introduced in lieu of Octroi with immediate effect, however, in case not later than 1 October, 2009."
Change of heart?
But he seems to have recanted his views and hopped on to the other side. For, at the press meets and assemblies of traders being held of late all over the city in view of the ongoing LBT protest, Gurnani seems to be cringing at even a mention of the acronym.
Since the agitation took off, FAM has been persistently stressing that the member bodies would intensify the stir against imposition of LBT in Maharashtra. It continues to call for an indefinite bandh. It has even been claiming how no traders would pay LBT or even make fresh registrations.
But the facts belie his declarations. A certain section of retailers have withdrawn their protest and have decided to continue with their business in order not to hassle customers further. One of the traders, pleading anonymity, wondered out loud, "If Gurnani was opposed to the payment of LBT, why did he not raise his voice when it was being imposed in other municipal corporations over the last few years?"
Gurnani says 
Asked why he had gone on a hunger strike and stirred traders into an agitation when he had endorsed a letter asking the government to bring in LBT, he said, "I still stand by what was mentioned in the letter. However, there were certain other points mentioned in the same letter of which no notice has been taken. We had stated that the registration in value-added tax should be qualified as deemed registration, and no separate registration procedure will be required. By this we meant that the assessment of LBT should be done through VAT itself. My question is, how many agencies should we show our account books to? This will simply fuel corruption."
He added, "We are not at all against paying taxes but the collection should be done through a single window."
FAM chief argues for and against the taxation
Excerpts from his letter in 2009
The state needs additional revenue as also we do not want to deprive the local self governments of their revenue tp upgrade local areas, we hereby summarise and confirm the following proposal (of LBT):
>> A local body tax be introduced in lieu of Octroi with immediate effect, however, in case not later than 1 October, 2009.
>>  All the Octroi checkposts be done away with.
>> The incidence of this LBT shall not be more than present Octroi applicable.
We strongly feel that for the development of the state and to maintain the leadership position of this state in our country, this unwarranted Octroi must be removed forthwith. The above scheme (LBT) be implemented with immediate effect.
What he has been saying recently
The trading community will totally boycott LBT. No traders in Maharashtra will take fresh registration of LBT and those who have already taken registration, will surrender them. (FAM press release, May 1)
The implementation of LBT would mean harassment of traders. Besides, corruption would rise. There should be a single-window tax collection centre rather than introducing new taxes every year.
(At fast at Azad Maidan, May 5)
We are ready to pay LBT under VAT as we do not want additional window and assessing authority.
(FAM press release, May 8)
Traders should pay only 5% portion of VAT and keep 95% portion of VAT in abeyance till LBT has been removed…If LBT is not removed within seven days, the traders' community would not vote for the Congress…Do not invite any minister for any social function or inauguration. (FAM press release, May 9)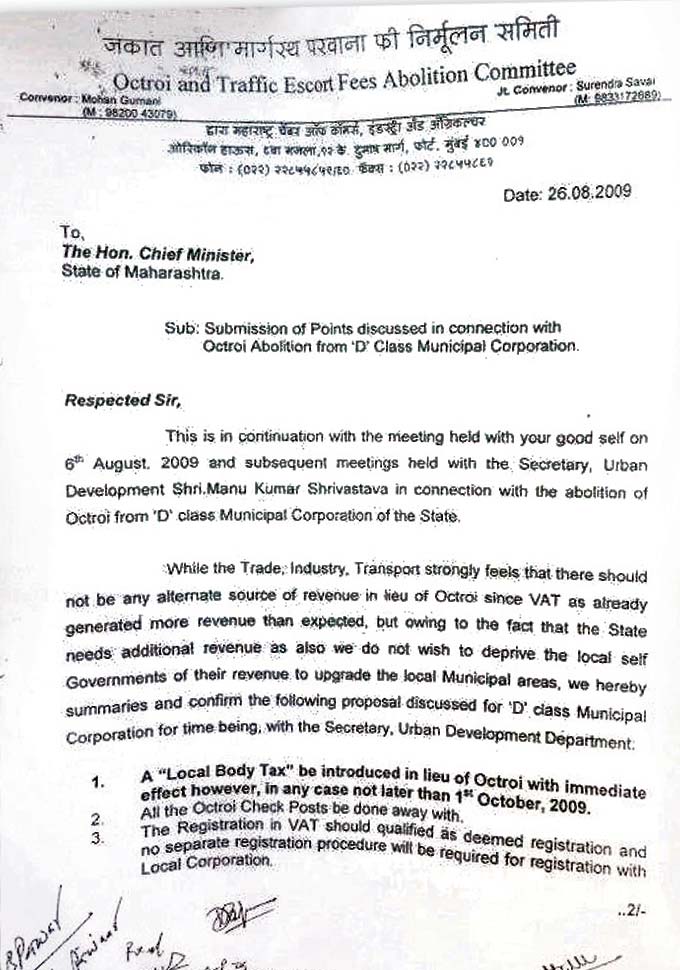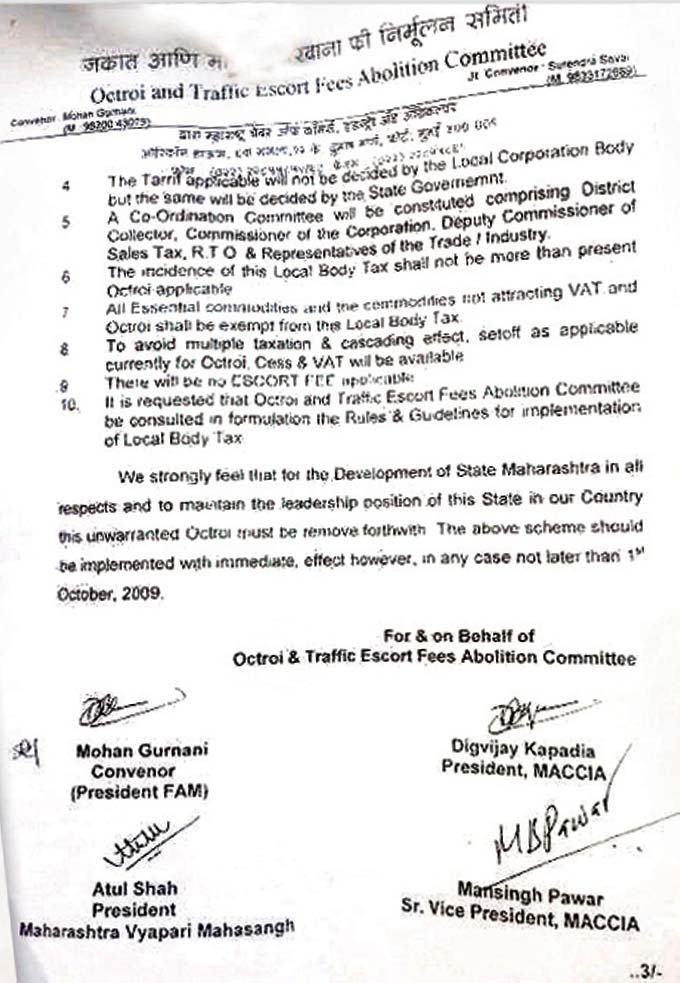 Source : Mid-Day