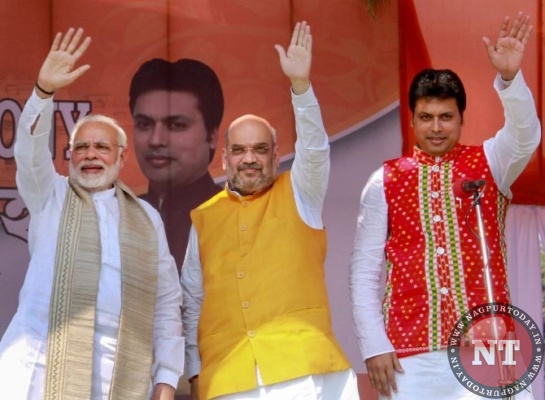 New Delhi: Prime Minister Narendra Modi has reportedly summoned Tripura Chief Minister Biplab Kumar Deb over his controversial statements, NDTV said in a report quoting news media.
As per the report, Deb has been summoned to meet PM Modi and Bharatiya Janata Party president Amit Shah on May 2 in the national capital, a senior BJP leader on Sunday said.
Deb, who took charge of Tripura last month, has made several remarks which have been triggered widespread criticism.
He had stated that the Internet and satellite communication existed during the Mahabharata era. He also questioned the crowning of Diana Hayden as Miss World in 1997 and stated that mechanical engineers should not opt for civil services, but civil engineers should.
In his latest controversial remarks yesterday, he asked the educated youth to set up paan shops instead of running after political parties to get government jobs.
"Senior party leaders are miffed over the controversies triggered by (Biplab) Deb's statements. (Biplab) Deb is just saying anything and everything. (Prime Minister) Modi will talk to him," said a senior BJP leader on Sunday.