Inauguration of Border Check Post at Khursapar-Saoner
Connected with Central Control Room at Mumbai
Inter-State vehicular traffic to become transparent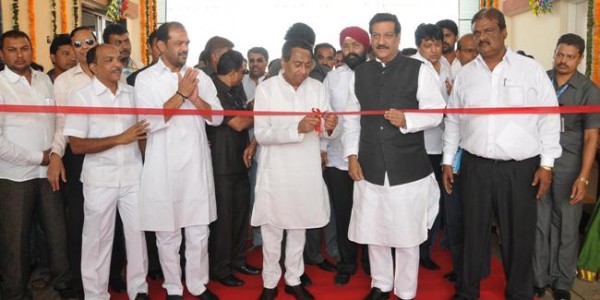 Nagpur Today.
There is a significant pace with which many projects and basic amenities in the state are being initialized. The work of modernization and computerization of many Check Posts at 22 various borders of the state is on at war footing to ensure transparency and to keep a check on the vehicular traffic that is plying to & fro without any problems.
Modernization of the Check Post will ensure 100 % collection of taxes and revenue said Chief Minister Prithviraj Chauhan.  The Border Check Post at Khursapar-Saoner on National Highway No 69 at the border of Maharashtra and Madhya Pradesh was inaugurated by Chief Minister Pritviraj Chauhan on November 12, 2013.
The programme was presided by Union Minister of Urban Development and Parliamentary Affairs Kamalnath. Minister for Social Justice, Welfare of Nomadic, De-Notified Tribes & other Backward Classes Shivajirao Moghe, Minister for PWD (Public Undertakings) and Chairman of MSRDC Jayadatta Kshirsagar, Minister for EGS and water Conservation Nitin Raut, Minister of State, Water Supply and Sanitation, Tourism and PWD and Joint Chairman of MSRDC Ranjit Kamble, Minister of State Transport, Housing Industry Sachin Ahir, Minister of State for Finance, Planning, Energy, Water Conservation and Exicise Rajendra Mulak and MLA Saoner Sunil Kedar were other dignitaries present on the occasion.
The process of installing electronic tags, Electronic Weigh Bridge, Cameras, Computerization etc has been initialized at this Border Check Post. All 22 Border Check Posts will be connected with each other and in-turn with the central control room at Mumbai.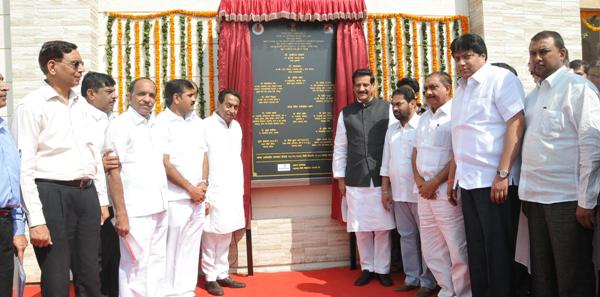 This project has been visualized to keep a tab and for various departments to check the vehicles in as less time as possible said Chief Minister Prithviraj Chauhan.
Union Minister for Urban Development and Parliamentary affairs Kamalnath said that he has a special attachment for Saoner in his heart. Since the border of Nagpur District falls very close to my constitution in Chindwara, many inter-developmental activities are seen. The presence of 4-lane roads and a modern Border Check Post will enhance business between the two states. Minister for PWD (Public Undertakings) and Chairman of MSRDC Jayadatta Kshirsagar in his address said that connecting the borders of 6 states through computers is a unique project. This project will enable authorities of various departments to check human and goods transport in a transparent method. All the three departments of Vehicular, Sales Tax and State Production Tax will get 100 % checking together.
MLA from Saoner Sunil Kedar also spoke on the occasion. At the offset, the unveiling of the plaque was done at the hand of the dignitaries. All the dignitaries were welcomed by Chief Secretary of Transport Dr Shailesh Kumar Sharma, Deputy Chairman of State Road Development Corporation and Executive Director Bipin Shrimali. The programme started with lighting of the traditional lamp. Divisional Commissioner B V Gopal Reddy, Collector Saurabh Rao, Superintendent of Police Manoj Kumar Sharma, Chief Executive Officer Pradeep P and senior officials of Sales Tax, Transport and Production Tax were also present on the occasion.