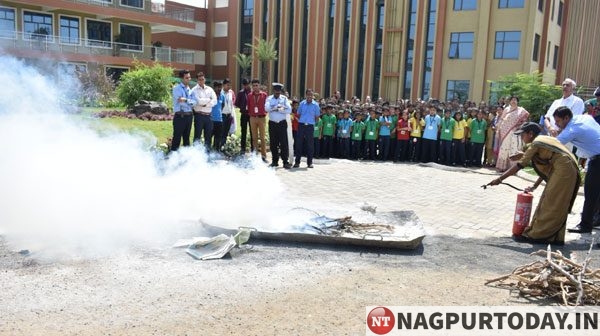 Nagpur: A mock fire and evacuation drill involving students and teachers was conducted at Delhi Public School MIHAN on Tuesday to create awareness among the students about fire-fighting techniques and the ways to respond swiftly in times of such emergency situation.
The "evacuation" operation began moments after the fire alarm alerted the students. The students were immediately evacuated from their classrooms and asked to gather at the assembly area. The mock drill was carried out in the school to prepare students and teachers for any such eventuality under the fire risk reduction programme.
The mock drill was organized to check the readiness of the school to face any such fire emergency and also to make the students and staff aware about the Fire Fighting rescue operation. The students were advised not to panic in case of any disaster. They were instructed to be with teachers at the time of disaster and follow the instructions given by them.
Keeping all the safety measures in mind and carrying them out methodically, the entire building was evacuated. A Powerpoint Presentation along with the guidelines was given by the Principal of Institute of Fire Engineers Dr Priya Singh and Managing Director A K Pravin Singh.
They explained and demonstrated various improvised methods being followed by them to rescue and evacuate people caught in such emergency situation besides explaining the ways to operate the fire extinguishers safely.
The Principal Gurpreet Bhambra addressed the students saying that "the school will keep conducting such mock drills in order to make children aware and alert and not to panic in such situations."