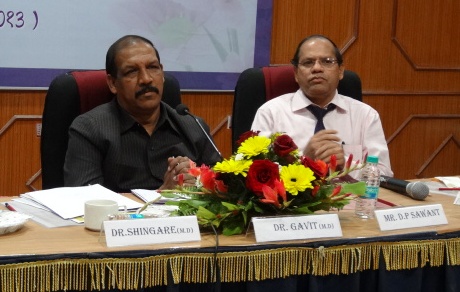 Nagpur News: A meeting of all people's representatives (MLAs and Corporators), to discuss medical requirements of the region and clear out a number of issues of Government Medical College and Hospital (GMCH) by State Medical Education Minister Dr. Vijay Kumar Gavit. The meeting was skipped by most of the MLAs in the constituency, in a stark display of the lack of importance of healthcare in the minds of most representatives of the people in the region.
Two ministers, including State EGS Minister Nitin Raut, declared that they were unavailable for the meeting, whereupon a number of the other invitees were miffed and skipped the meet in protest. Among the few who attended were Arun Humne, Rajendra Mulak, Vikas Kumbhare, Ashish Jaiswal, Dinanath Padole, Sunil Kedar, DP Sawant, Dr. Anil Bande, SQ Zama and others.
The new Emergency Medicine Department, Trauma Care Centre and a number of new equipment was supposed to have been inaugurated as well, but the absenteeism of important ministers led to this formality being postponed for the third time till date.
"The establishment of a Regional Cancer Institute (Rs. 150 crore) was approved in the meeting, and Rs. 20lakhs have been allotted from the March budget for equipment for Brachiotherapy as well as a linear accelerator", Gavit told mediapersons after the meet.
A government Superspeciality Hospital was also discussed, as was as the recruitment of more nursing staff for GMCH and Indira Gandhi Medical College (IGMC). It has been decided that a separate department each for Administration and Emergency Medicine is to be formed in each Hospital, to reduce red tape and ensure that the patient is attended to immediately without being delayed by formalities. "Doctors should always be available for emergency patients, and not get caught up in administrative work", said Gavit.
A controversial decision taken during the meet was that cleanliness of the GMCH would be outsourced, and a final decision in this regard is expected in fifteen days or so. This raises questions about the future of the existing Grade- 4 employees (cleaning staff etc) of the Hospital. Some members of the staff approached press members after the meet, claiming that Grade- 4 employees who have been working for decades, are yet to be made permanent by government hospitals in the city. They claim to have been unable to avail any facility as government employees, and are now facing uncertainties about their jobs, because of this new impending decision.