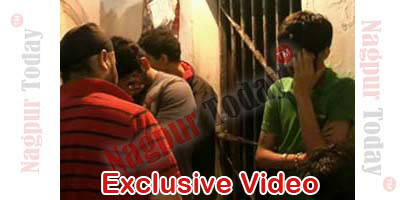 Nagpur News.
After spending over 48 hours in jail, Kunal Raut, son of Maharashtra Employment Guarantee Scheme Minister Nitin Raut, heaved a sigh of relief as he was granted bail on Saturday by the court of Additional District Judge in Pipariya, a tehsil of Hoshangabad in Madhya Pradesh. Hearing the bail plea, Additional District Judge Kashinath Singh provided respite to all the accused on the bond of Rs 20,000 each.
Exclusive Video after been released from Jail:
As the news spread, large number of his supporters cheered up in Nagpur while many of them drove towards Pipariya to show their loyalty towards their beleaguered neta. Advocate BK Sharma and Atin Mourya appeared for the applicants.
Kunal was arrested and sent to judicial custody on Thursday after he beat up toll booth workers at the post near Pipariya and also thrashed forest officials including a ranger when they were intercepted on their way to Pachmarhi – a hill station near Pipariya.
Pipariya police sources informed that the court had directed to present the case diary on Saturday as the prosecution and defense counsel argued over the case. Later the Additional District Judge granted bail to all the accused after hearing the bail plea.
Earlier on Thursday, Kunal was presented to the first class judicial magistrate court which rejected his bail. Subsequently, Kunal along with his friends were sent to jail the same evening. He spent two nights in Pipariya jail before he was released on bail.
Kunal along with his 5-6 friends rashly drove towards Pachmarhi via Chhindwara in their SUV Fortuner (MH-40 R 9). The vehicle was stopped at toll booth near Matkuli where they refused to pay up and also hurled abuses at the toll handlers. They also hit the workers with fists and blows. Later, when the forest officials checked them on their way they also thrashed them. Kunal and his friends were also beaten up by the toll booth workers.
On their return from Pachmarhi, Kunal and his mates were arrested by Pipariya police and brought them under the hammer of law.
Nagpur Today got an exclusive video showing Kunal and his friends cooling their heels in police custody.
Click on the link below to watch video.
http://www.youtube.com/watch?v=juEPuwdDTng&feature=youtu.be