Minibus hits stationary truck; 1 dead, 12 injured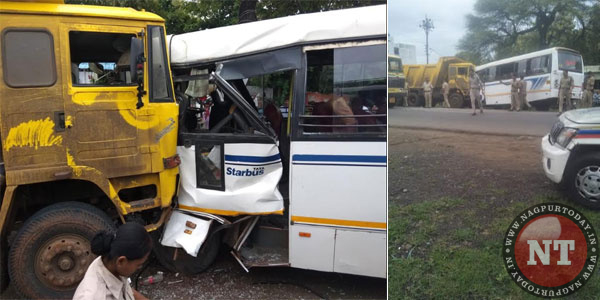 Nagpur: A woman passenger died and 12 others were injured when a speeding minibus rammed into a stationary truck on Thursday on Nagpur-Umred Road, under the jurisdiction of Hudkeshwar police station. The bus was headed towards Brahmapuri while the truck was parked on the road shoulder facing towards Nagpur.
Soon after the incident was reported, cops rushed to spot and started rescuing passenger. Cops had to break open some windows of the bus to remove the passengers, as the door was completely crushed due to the impact of the accident. The injured were shifted to Government Medical College and Hospital (GMCH) for treatment.
Cops cleared the traffic at the spot and also seized both vehicles. Hospital sources said 13 patients were brought in, of whom six were let go after first aid. A woman passenger, Shobha Raut, 48, succumbed to injuries during treatment while six others are still under treatment. According to the cops, the truck was parked at the spot of the accident since Wednesday. The bus driver lost control and rammed into the truck in a head-on collision.
There are no dividers on the road, which is why the bus crossed over to the wrong side of the road and rammed the truck. Cops believe the bus driver fled the spot soon after the accident as he was not found among the injured. A case of death due to negligence has been registered against the bus driver at Hudkeshwar police station.