Gadkari pushes Green buses back on Nagpur roads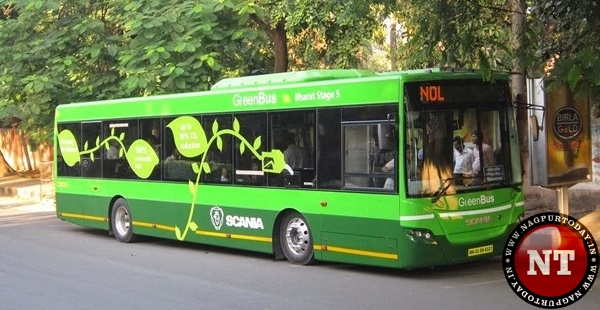 Nagpur: City MP and Union transport minister Nitin Gadkari has apparently prevailed upon Swedish bus operator Scania to continue plying Green buses, according to NMC transport manager Shivaji Jagtap. The company had decided to wind up operations in Nagpur citing non-compliance of various conditions of contract by NMC.
An official statement from Scania said, "We thank Union minister Nitin Gadkari for addressing our issues and extending support. SST and its promoter Scania are proud that the Green bus service was a pioneering effort to run a sustainable and efficient public transport service in Nagpur City.
"We continue to believe that sustainable transport solutions are required for mass public transport in growing cities like Nagpur and hopefully viable business models will be supported by the government in the near future for a clean and efficient public transport infrastructure in the city."
The buses were taken off the roads despite two meetings by Gadkari with NMC and Scania officials. Gadkari on Thursday convened another meeting related to the project with Swedish ambassador Klas Molin at Parivahan Bhavan in New Delhi. District collector Ashwin Mudgal, additional municipal commissioner Ravindra Kumbhare, transport manager Shivaji Jagtap, East and Central Nagpur MLAs Krishna Khopde and Vikas Kumbhare respectively, and transport committee chairman Bunty Kukde also attended the meeting.
NMC transport manager Shivaji Jagtap confirmed that Green bus operation will resume. According to him, Nitin Gadkari has assured Molin that issues pertaining to Scania bus operations in Nagpur city will be resolved within a month. Quoting Gadkari, Jagtap said Scania will resume operation of 25 ethanol buses without any further delay, though he could not reveal the exact date of start of operations.
In July, Green Bus operator SST Sustainable Transport Solutions, a company floated by Swedish Bus maker Scania Commercial Vehicles India Private Ltd, had threatened to stop operating 25 ethanol buses from August. Later, Gadkari held two meetings with NMC and Scania officials, but it failed to bear any result. Subsequently, the operator had discontinued operations from August 13.
The Swedish company officials had stuck to several demands, including payment of 18% GST by civic body etc. Gadkari assured that within a month NMC will open escrow account, clear pending dues, and will also hand over land for a depot.