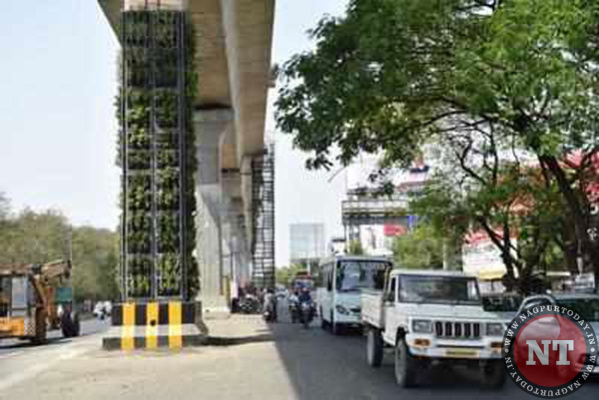 Nagpur: MahaMetro has decided to develop vertical gardens on 200 pillars with private help. If a private company develops and maintains vertical garden on one pillar it will given advertisement rights on five pillars. Two companies have shown interest in the project and Metro officials will hold talks with more firms.
At present vertical gardens exist on four Metro pillars. Two were developed last year near the airport while the other two have been created at Rachna T-point on Hingna Road. These have been developed using Metro's own money.
According to a source in MahaMetro there are about 1,250 pillars and going by the one is to five formula vertical gardens will come up on more than 200 pillars. "The cost of developing one garden is around five lakh rupees.
Around five lakh rupees will have to spent on its maintenance for three to four years. The gardens need drip irrigation and water has to be pumped up. It will incur water and electricity charges," he said. "The two vertical gardens near airport were developed last year and they survived during this summer.
Hence we have decided to go ahead for more of them," said the source. Metro officials have gone for plants that can survive the scorching summer of Nagpur such as euphorbia, phalphysia, yucca, sasivera, nerium, thuja, chuphia, etc. The vertical gardens will be spread over 600 square feet and will be 30 feet high. Some 1,300 plants would be hung from a pillar. They will release 1,300 litres of oxygen every day.
The frames use geo-fabrics that retain moisture. This saves water and also does not cause any damage to the pillar. It takes eight to ten days to create a vertical garden on a pillar. Apart from this, MahaMetro has taken several more green initiatives. It has taken permission to fell 312 trees. As per NMC's compensation formula, it was supposed to plant 1,565 trees.
However, it has planted 5,000 trees near Ambazari lake and their survival rate has been excellent. About 65% of the project's energy needs will be met through solar power. It will also use geothermal system for air-conditioning in its office that is being constructed near Deekshabhoomi.