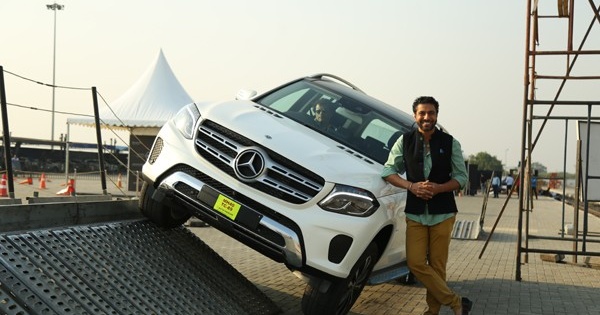 Nagpur: After a grand success of Phase-2, which concluded, in Kolkata, Chennai, Hyderabad, Thrissur, Bengaluru and Mumbai the Phase-II of 2018 Mercedes-Benz Luxe Drive Live now arrives in the city of Nagpur. The 2018 Luxe Drive live is based on three exciting pillars of Adrenaline, Gourmet and Music, providing the participants a holistic brand experience. Customers witnessed a fun filled evening with one of India's most popular electronic channels in the Music industry – MTV. The event took place on 17th and 18th November, 2018 at Concur, Mihan Kalkuhi, Near TCI Godown, Nagpur – 441108.
Patrons received an opportunity to drive the fascinating range of Mercedes-Benz vehicles on the specially designed tracks. Professional racing drivers demonstrated the brands technological prowess and luxury quotient of the cars. Adding an exciting element to the initiative, Mercedes-Benz hosts MTV Sessions, which brings together a set of some talented artists across genres, to create a perfect weekend for participants. Keeping participants' convenience and feedback, Luxe Drive Live has been specially scheduled from 14:00 hours till 22:00 hours on both the days so that they can enjoy the experience to its best. Luxe Drive Live also boasts of more self-drive zones with extended drive duration for the
participants. In its endeavor to provide a perfect blend of luxury and exclusive culinary experience, Mercedes-Benz India associated with celebrity Chef Ranveer Brar for some epicurean delights for patrons coupled with an exclusive workshop on Gourmet and food photography.
Speaking on the occasion, Mr. Michael Jopp, VP – Sales and Marketing Mercedes-Benz India said, "After a fascinating response in Mumbai, Delhi, Jodhpur and Ahmedabad, the Mercedes-Benz Luxe Drive Live is set to dazzle the city of Nagpur with its Phase-III drives. Nagpur, is strategically a very important market for Mercedes-Benz India. One of the fastest growing cities in Maharashtra, Nagpur is a unique city, and an emerging industrial hub. We are delighted to announce that we are bringing an innovative customer engaging initiative like Luxe Dive Live to this city. Through these events, our focus is to provide our potential customers an enthralling experience of our exclusive range of products while showcasing the brand capabilities and finesse"
Timing: Mercedes-Benz becomes the first automotive brand in the country to introduce an exciting large scale evening drive event under flood lights. Luxe Drive Live engrosses its participants with Live Music, Adrenaline and gourmet.
Saturday – 14:00 – 22:00 Hrs
Sunday – 12:00 – 22:00 Hrs
Adrenaline: Adrenaline as a pillar is fabricated to give a holistic product and brand experience to our prospective customers. With this key principle, Luxe Drive Live enhances the drive experience by adding more self-drive zones with extended drive duration. To increase the drive experience and product exposure for all our SUVs, Mercedes-Benz also has a specially designed self-drive zone dedicated to experience the GLA & GLC.
• Self-Drive experience of our GLA, CLA
• Self-Drive experience on a specially designed off-road track for GLC & GLE 250 d, GLE 350 d & GLS 350 d
• SUV demonstration drives showcasing off-road capabilities of GLE 350 d and GLS 350 d
• Pre-safe demonstration in the C-Class and E-Class
• Innovative car displays consisting of a range of the new product launches and brand shapers
• One display car to be accessorised to showcase Mercedes-Benz Accessories
• An immersive experience with the most intelligent three-pointed star, Mercedes-Benz S-Class
Luxe Drive Live & MTV Sessions: Music is a high attention grabber and is capable of influencing reach in the country. Keeping this in mind, Mercedes-Benz created an extra pillar for this extravagant gathering to provide participants an electrifying experience and a memorable weekend. As an industry first initiative, Mercedes-Benz India has associated with MTV for MTV sessions – a series of live music gigs that showcase the work of today's hot acts and presenting some of the supremely talented artists such as Kamakshi Khanna and Hari Sukhmai along with prominent bands that includes – The Yellow Diary and Paradigm Shift.
Gourmet: Gourmet has been the most successful engagement pillar for Luxe Drive over the years as it presents a perfect blend of luxury and lifestyle. Mercedes-Benz continues
its association with Chef Ranveer Brar for the initiative and he will personally travel to all locations, plating a unique gastronomical experience on both the days of the event. He will be engaging the Participants with a new and exclusive workshop on Gourmet and food Photography.