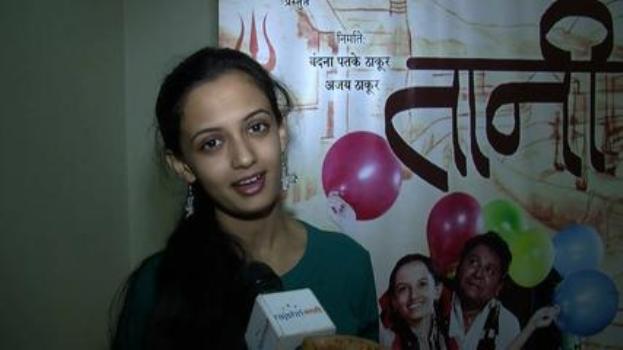 Directed by Sanjiv Kolte and Produced by Ajay Thakur and Vanadana PatkeThakur,"Taani "is a film of this young girl who has dreams to see and has the zeal to make them true. The film has Ketaki Mategaonkar, Arun Nalavade, Vatsala Polkamwar, Devendra Dodke and Vilas Ujawane.
In an Exclusive chat with Nagpur Today Ketaki Mategaokar claimed to be an "Asal Nagpuri", she said "I was born here and after which my dad shifted to Pune. So for many years I have been living in Pune however every year in summers I was in Nagpur."
Talking about her film "Taani" Ketaki said, "It's a story of a Cycle rickshaw wala who has a daughter and he and his wife work real hard for their daughter's education, by days Taani also realizes and knows her parents hardships, so as a support she also starts working as a maid servant and how she fulfill her dreams you will come to know when you watch the film."
Sharing her experience with Arun Nalavade the man who took Marathi cinema to the doors of Oscar "Arun ji is like father, he is very friendly, jolly and kind. Though it was a challenging role but working with someone of that great  stature was a dream come true , I was tensed to work with him, but it was really a great experience." says Ketaki
On asking about her film competing with Yashraj banner "Aurangzeb" on the box office Ketaki says "I have no competition, quality speaks. "
On her future plans "I am Ravi Jadhav Marathi film it's a cute love story called TP –"Time Pass". "Like taani I also have aspiration and I am working towards to be a good singer and an artist" says Ketaki.
Nagpur Today wishes Ketaki a very best of Luck.
: Yash raj Trivedi