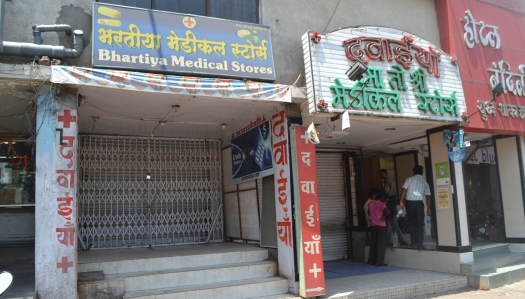 Nagpur News.
Extending full support to an All India bandh call to press its series of demands, about 3200 members of Nagpur Chemist and Druggist Association including around 2500 members in the city kept their medical stores closed on Friday, leaving the people in lurch for want of medicines. The closure reportedly evoked good response as nearly all the medical stores downed their shutters. These included retailers and wholesalers at city and taluka levels.
Girish Bhattad, Secretary, Chemist and Druggist Association in Nagpur informed that till now the response is reported to be 100 percent. Not a single shop was found to be opened in the city. As regard to emergency, he informed, a help centre has been put up at chemist bhavan behind dawaa bazaar in Gandhi Bagh area to meet any urgent requirement.
When asked whether single relief center would be enough to cater to the emergency situations across the city, he told Nagpur Today that the pharmacies in the hospitals have also been told to make up for the supply loss as 90% of the emergency cases are related to hospitals only. While the rest of the 10% are certainly being entertained at Gandhi Bagh, he said.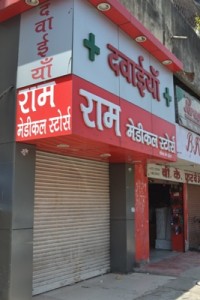 Bhattad informed that by late afternoon about 300 people have called at the helpline no 0712-2776524 and taken the medicines from Gandhi Bagh center.
He said similar arrangements have been made at Taluka level also where in the association's executive committee members kept an eye on any emergency situation. He said that tehsildars of talukas like Saoner, Kalmeshkar and other towns have also been provided with helpline numbers in their vicinity.
Among the various issues that led to the bandh include the government's decision to reduce the margin of pharma retailers and wholesalers by 4 percent. Currently the margin on drug sale is 20 percent while the government has decided to bring it down to 16 percent.
He said, "It is okay that the government has brought 348 types on medicines under Drug Price Control (DPC) which would reduce the prices of these medicines. Eventually this will benefit people and we have absolutely no problem with that. Our concern is that along with reducing the prices, the government has also cut short our margin by 4 percent. Neither the people nor the government will benefit from this decision as the margin will be eventually booked by the drug manufacturers and pharma companies which are already handed out whopping 200-300% margin."
Moreover, he said, it would also affect the prospects of medical store owners like its staff salaries, shop expenses and their lifestyle too as it will also bring down their present earning.
Among other issues that the association is averse to, includes invoking FDI in retail and appointment of pharmacists on medical stores.