Nagpur News: The Nagpur Mayor Anil Sole, NMC Commissioner Shyam Wardhane and Deputy Mayor Jaitunnabi Ashfaq Ansari on Tuesday visited Deekshabhoomi premises and reviewed the arrangements made or to be made for Dhamma Chakra Pravartan Din. The Deekshaboomi, is the place of faith for Budhhists who converge on the day in lakhs. Since they arrive as pilgrims from distant areas, the basic amenities and distribution of food arrangements have to be made in massive proportions.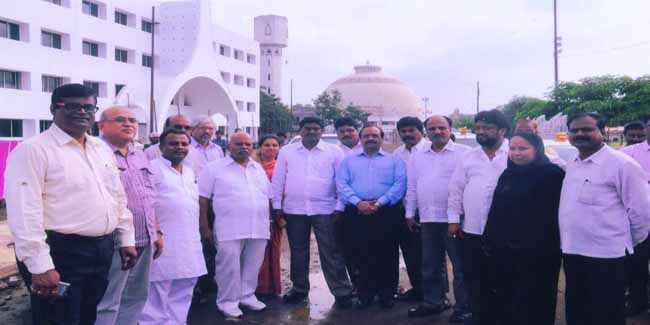 Those who accompanied them include Health Committee Chairman Ramesh Shingare, Water Works Committee Chairman Sudhakar Kohale, NCP Party Leader Prakash Gajbhiye, former Deputy Mayor Sandeep Jadhav, City RPI President Raju Bahadure, Dharampeth Zone Chairperson Varsha Thakre and others.
The Mayor, Commissioner and others inspected the main function place, Mata Kacheri, ITI, Blind School, and other areas. NMC is constructing temporary basic amenities like 650 toilets, 100 bathrooms and urinals in ITI and Blind School premises. The Mayor directed the concerned officials to ensure proper facilities and also ensure no garbage goes stagnant. Similarly, the Mayor directed the Executive Engineer of Water Works Department to ensure 24 hour water supply and water tankers stationed at surrounding places of the Deekshabhoomi Stupa. The Electricity Department of the NMC has been directed to see all the streetlights are functioning and keep a generator in place in case of an emergency. Spraying of pesticides has also ordered.
The NMC is all geared up to see that the pilgrims face no difficulty in any manner. The dignitaries were accompanied by officials of the NMC and other departments.