Nagpur News: The Slum Rehabilitation Authority, on behalf of Nagpur Municipal Corporation (NMC), is implementing housing complex schemes under Jawaharlal Nehru National Urban Renewal Mission's (JNNURM) BSUP Project. The scheme is being implemented in Pandharabodi, Zingabai Takli, Vanjra, Pachjhopda, Adivasi Gondtoli, Indiramata Nagar etc.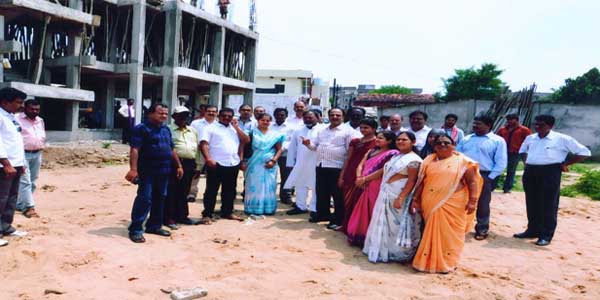 The Nagpur Mayor Anil Sole, along with Chairman of the Special Slums Eradication and Housing Committee Jagdish Gwalbanshi, and members of the Committee, inspected the progress of the schemes by visiting various areas. The Vice-Chairperson of the Committee Sushma Sanjay Chaudhari, Corporators Sunil Agrawal, Parinay Fuke, Anita Wankhede, Sarita Kawre, Lalita Patil, Ishrat Ansari, SRH Secretary Ajay Ramteke, Executive Engineer Ramesh Hotwani, Executive Engineer (Slims) Satish Neral, Deputy Engineer R G Rahate, Deputy Engineer R Y Bhutkar, social workers Sanjay Chaudhari, Deepak Girhe, and former Corporator Ashok Mendhe were present during Mayor's inspection visit.
The Mayor Anil Sole during his visit to the project under Basic Services to the Urban Poor (BSUP), first inspected Pandharabodi project which has been almost completed and  talked with the citizens to get apprised of their problems. A total of 45 houses are being constructed in the area out of which 44 have been completed. Every house consists of a hall, 1 bedroom, kitchen, bathroom and toilet. The construction is being done in the area of 325 square feet. The cost of each house is Rs 5,06,000 out of which the beneficiary would pay 9 per cent of the total cost and get possession of the house. The remaining amount would be shared by Central Government – 50 per cent, Maharashtra Government –30 per cent and 11 per cent by the NMC.
Similarly, the Mayor visited the Zingabai Takli project and inspected the work under construction. The project in Zingabai Takli consists of 5-storied buildings (G+4) and 100 tenements. The tenements would be allotted to the persons of the same area.