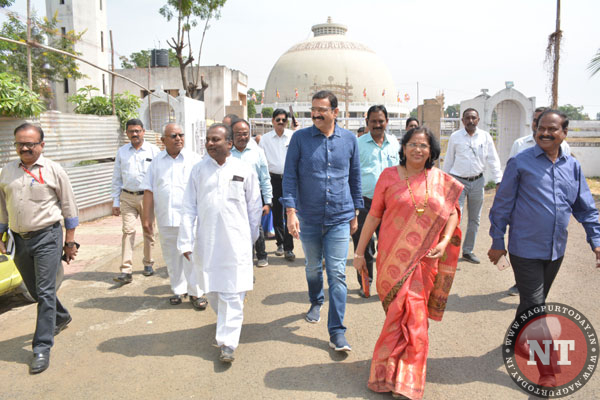 Nagpur: The Mayor Nanda Jichkar on Wednesday took rounds of historic Deekshabhoomi and inspected various preparations being made for lakhs of devotees visiting to celebrate Dhammachakra Pravartan Din on Thursday, October 18. After the visit, the Mayor directed the concerned authorities to finish the half completed works speedily so that the devotees visiting the monument are not put to hardships.
The Mayor was accompanied by Ruling Party Leader Sandeep Joshi, Chairman of Tax Assessment and Collection Committee Sandeep Jadhav, Additional Municipal Commissioners Ram Joshi, Aziz Sheikh, Deputy Commissioner Dr Ranjana Lade, Chief Engineer Manoj Talewar, Chief Fire Officer Rajendra Uchake, Health Officer (Sanitation) Dr Sunil Kamble, Dr Pradeep Dasarwar, PRO Ashok Kolhatkar, Deekshabhoomi Smarak Samiti's Vilas Gajghate and other officials.
The NMC is making arrangement for 24 hour water supply at Deekshabhoomi and surraounding premises. Water Works Department is making arrangements to provide 24 hour drinking water and will be deploying water tankers. A number of temporary water connections will be provided at various places. The NMC will be making arrangements of temporary toilets in ITI and Blind School premises. Around 1200 temporary toilets would be set up. Adequate lighting arrangement will be made at these toilets. Similarly, many bathrooms and urinals are being constructed.
Dustbins, containers, waste boxes are to be placed majority of the areas. Water will be made easily available for devotees using toilets, bathrooms and at other places. The eatery vendors, tea stalls have been asked to drop plastic plates, glasses and other garbage at specified places. The lighting arrangements are being made by NMC and MSEDCL. Adequate lighting arrangements will be made at crowded places at Deekshabhoomi and at other vantage places. Generators are to be installed to deal with emergency situations.
The Chief Fire Officer Rajendra Uchake said a fire tender will be deployed at Deekshabhoomi for 24 hours and the second one will be stationed near Kachipura Police Post. Two ambulances will be at place for 24 hours. Teams of doctors will be on duty at various places for 24 hours, informed the Health Department.