Mayor Anil Sole dedicates beautified Gandhibagh Garden's Children's Park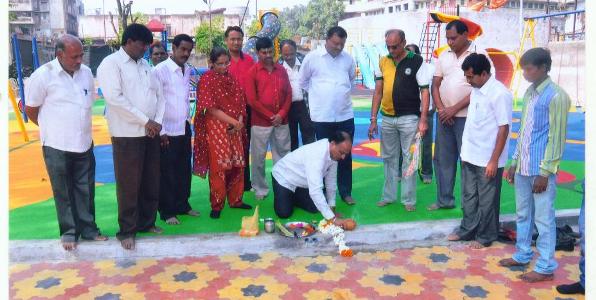 Nagpur News.
The beautified "Balodyan" (Children's Park), part of NMC-managed Gandhibagh Garden, was dedicated to public. The beautification of Children's Park was completely done in a hi-tech manner. The 4600 square feet area where children's toys are installed has been spread with 38 mm thick layer of EPDM safety flooring. The EPDM (Ethylene Propylene Dione Monomer rubber polymer) flooring will take care of children if they fall during playing. The children will not get hurt even if they fall in great force as the flooring will act as cushion. Moreover the flooring has designs in various shapes in 14 vivid colours the children like most. This is the only garden in city of all gardens managed by NMC and NIT where children can enjoy every moment in a big and colourful way.
Mayor Anil Sole dedicated the entire beautification work which was conceptualized by former Standing Committee Chairman Dayashankar Tiwari during his tenure. Those present on the occasion include Dayashankar Tiwari, Gandhibagh Zone Chairperson Rashmi Fadnavis, and others. The beautification and other works were carried out under the guidance Garden Superintendent Shrikhande by Deputy Engineer Sudhir Mate.