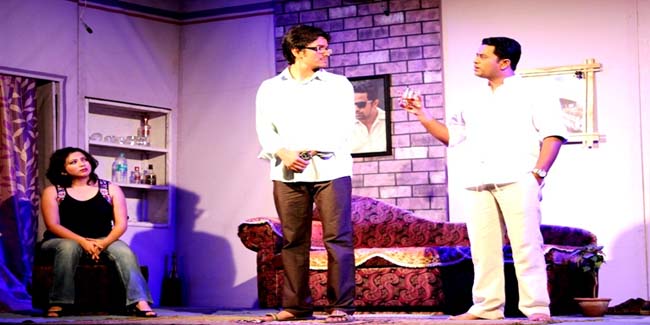 With the increasing trends of the art and cultural genres, the people in Nagpur appreciate and show their keen interest in the same. Thereby a play organized at the Scientific Hall saw the presence of numerous spectators.  Maya, the play, was written and Directed by T.Rammohan that debates about Life, Love, Philosophy and Morality, which is a contemporary adaptation of the Sahitya Academy, an award winning Bhagwaticharan Verma's Chitralekha.
In this play, two youth Shashwat and Mihir are in search for the answer to the eternal question- what is Sin? They approach their guru, Professor Banerjee for guidance, who comes up with a unique problem solving idea. Shashwat is introduced to the perfect pair of Maya Vashishth, the poetess and Kabir Singhania, the financial consultant, who think freely and are sexually liberal.
On the other hand Mihir meets Mr. Vibhutinarain Chaturvedi, a brilliant scholar and an expert on Indian scriptures. For him, Maya and Kabir are classic examples of immorality and the things that are wrong in this world. The two guiders happen to encounter each other at dinner and the battle lines are drawn. One thing leads to another and Vibhuti agrees to teach the Bhagvad Geeta to Maya, with conditions applied.  Slowly through an exploration of Bhagvad Geeta, both Vibhuti and Maya start understanding each other better but become slaves of their surroundings. On the other hand, at Maya's absence, Kabir is able to realize the depth of his love for Maya, where the entry of Nutan Pujari complicates things. Shashwat and Mihir from being mere observers of the situation, become the situation itself.
The storyline was simple that stressed on different perceptions of people with dissimilar mindsets on the same topics.  The actors were immensely appreciated by the crowd that enjoyed the play to the core.