Mathematics can be lucrative if correctly pursued by students: Dr Vivek Wagh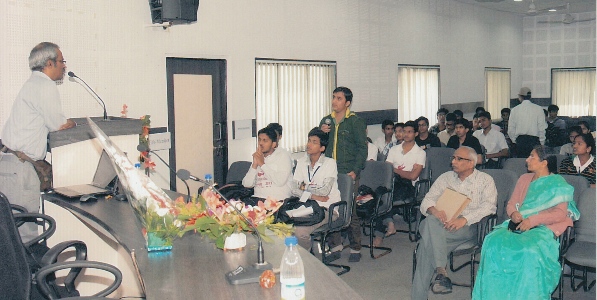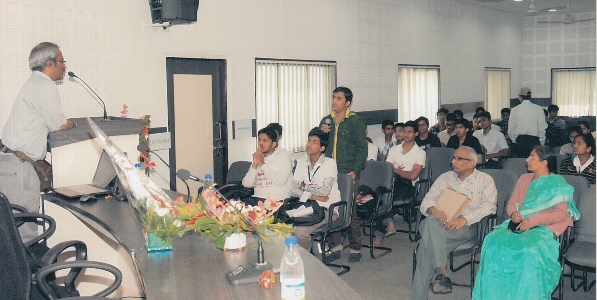 Nagpur News.
Mathematics Expert Dr. Vivek Wagh enlightened the participants on "Where is Mathematics around us?"  He spoke about application of mathematical laws in and around us.  He motivated the students by asking questions and slowly deriving their answers from the students.  This made the session very much interactive. He was speaking during the first session of day
3 INSPIRE Internship Camp 2013 held on December 11 at Shivaji Science College.
He explained a broad overview of current mathematics, the role of research in mathematics which could be enjoyment and appreciation.  He urged the students not to hesitate in asking questions, such as why and how always.  He explained to the students that if they really understand mathematics correctly and know how to use it properly, the industries are ready to employ you and pay any salary.  He gave an example of two Chennai based B. Sc. Students who were offered an annual salary of 2 crores by Facebook.
The second speaker from Walchand College of Arts & Science, Solapur Dr. S. J. Pandit spoke about introduction of Geology.  How Pythagoras explained various things about earth.  In particular he explained the formation of rocks.  He also explained the contribution of Indian Geologists.  He also talked about formation of various minerals and how the countries economy is governed by availability of minerals in it. Pandit also mentioned about Ayurvedic Mineralogy, engineering Geology, Geophysics, and Geochemistry etc.  He also elaborated on the employment avenues available for Geology Students.
In the afternoon session, Head of the Department of Chemistry, Hislop College Dr. Hemant Pande spoke about how to use Idiot Box intelligently. He also urged the students not to get carried away by other's ideas; He said one must ask oneself what he really wants to do.  Whatever decision he or she is taking will that decision really gives him or her pleasure.  He urged the student to be inquisitive.
In the evening session 10 qualified teams from the first round of Quiz competition went through the semi-final round.  This was followed by a science movie which definitely aroused the interest of students in science.
The morning session was conducted by Prof. D. K. Kadu and the noon session was conducted by Prof. Mrs. Kokate.  The guests were felicitated by Dr. V. B. Gangshettiwar. Principal of the college Dr. D. K. Burghate and its staff members are making all efforts to make the camp a success.