Massive irregularities at PDS office irk people; Mob goes on rampage over absence of staff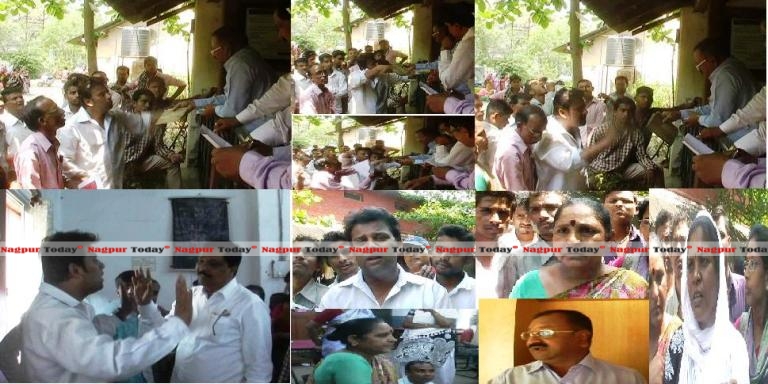 Nagpur News.
Fumed over the fractured functioning of state government's public distribution system (PDS) here, the people falling below poverty line category went on rampage on Monday as they angrily barged into the PDS office here.  The office is responsible for distribution of marginally priced food grains and other necessary items to BPL population here. The furious mob also gheraoed the officials as most of the staff was missing from the office.
The people complained that the food grains supplied by the ration shops are not enough to meet the consumption needs of the poor or are of substandard quality. They alleged that the owners of Fair Price Shops (FPS) across the city often behave rudely, cheat them on the quality and quantity of food grains, sugar and other items distributed by the PDS. Many angry denizens alleged that FPS have not given or distributed food grains for the last two years.
The anger has been boiling for quite some months as the poor people were reportedly made to run from pillar to post over petty formalities that include getting a BPL stamp of BPL on their card, or adding names etc. An angry woman also sat on the chair of senior PDS official G S Kakde who remained absent from his office. Some of agitating people even occupied the empty seats of other absent employees.
Many poor women said that these fair price shops do not open the shops for four months at a stretch, and when these poor people complain to these officials, they are abused and sent back.
Sources also informed that many schemes and facilities ayed by the central government never reach the poor and needy. Some of the people who were present on the spot alleged that the orange card holders also get the same quantity as that of BPL card holders.
Nagpur Today spoke to some of the people who lamented over the prevailing irregularities in the PDS. Babybai Gharpande, the woman who sat on the chair of the senior official questioned that official's and staff's absence during office hours. "Are all the officials of every office on poll duty? If not why can't they redress the grievances of the poor", she asked.
Another youth Sachin Bhongade who was also fighting for his rights and that of the others present there said, "We don't want to go from one zone to another, we want the solutions here and now."
Another lady Shalu Warkar alleged that she was sent from one zonal office to another and finally one official said that she doesn't fit in the criteria (probably wanting some bribe).
A PDS Officer J Wardikar said that he was on election duty and had these people approached him, he would have certainly redressed their problems. He assured the gathering and the media that he would take suitable action against erring officials soon.