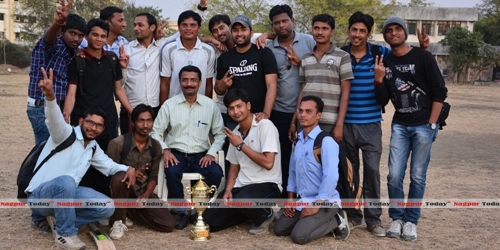 Nagpur News.
In what could be described only as a well deserved victory, the students of Mass Communication performed their best and brought victory to their team. The Mass communication Department of RTMNU won the cricket match against Sociology Department in YUVA-SPANDAN, an inter-departmental Championship.  The Winning team was led by Vinay Pande. The team won the match by 35 runs at the Chemistry Department's Ground in the University Campus.
The viewers witnessed a cut-to-cut match since both teams performed their best in order to win the cup. The team of Sociology Department won the toss and decided to field first. They showed remarkable fielding. The Student of Mass Communication Rohit Mishra made a significant 39 runs (which included 5 sixes) and displayed his bowling skills by taking 3 wickets. The Match was anchored with a lot of spicy jokes and included sarcastic pun-intended phrases which entertained the audience and the team members of six host teams.
The student of Mass Communication IVth Semester Vinay Pande took three wickets. While the other team members felt the tension rising as Student of Mass Communication Sumit Pakalwar of the Ist Semester took a brilliant catch and the student of Mass Communication Ist Semester Shreyas Upgade scored a difficult 25 runs with the opponent keeping the fielding very tight.
The Head of the Department of Mass Communication Moiz Haqque and Proffessor of Mass Communication D. Dhawankar were the mentors and guides who have been regularly encouraging the students to excel in all spheres of one's life instead of only academic achievements. The students of Mass Communication who brought laurels to the Department of Mass Communication were lauded and congratulated by both the driving force of the department, Head of the Department of Mass Communication Moiz Haqque and Proffessor of Mass Communication D. Dhawankar.
The Captain of the team when contacted by Nagpur Today said that this was a team effort and everybody put in their best which helped us clinch the Championship
The team members included Vinay Pande ,Harshit Paliwal, Swapnil Pawar, Rohit Mishra, Shiril Jadhao ,Praveen rangdale, Nitin Fulke, Imran Qureshi, , Balu Rathod, Shreyas Upgade, Sumit Pakalwar, Sandep Motghare and Nitin Binekar The Tournament was organised by Amit Zapate,Pratik Bankar, Shilwant Meshram, Manoj Fulmali, Mahesh Bansod, Raju Zade, Nitin Gaikwad and special support by Dr.Babasaheb Ambedkar Vidyarthi Sanghtna and Vidyarthi Parishad.