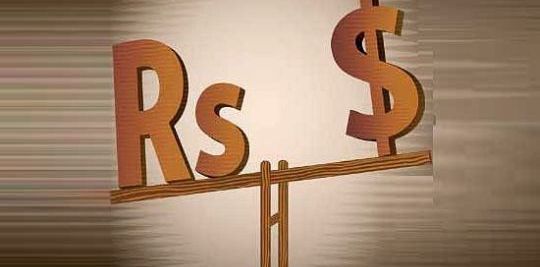 Nagpur News.
Even the banking stocks could not be spared from the declining rupee against dollar. As the rupee touched all time low of Rs 64 to a dollar on Wednesday, major banks bore the brunt as their stocks hit the worst after initially gaining in the early trade. Earlier during the rupee bloodbath, the banking stocks were termed as the safe corner to bank upon, but the wild storm plunged the rupee to sub-64 levels sweeping away the gains made by banks.
Yes Bank, which jumped 17 per cent during the day to touch an intra-day high of Rs 284.40, settled with gains of just 5.27 per cent at Rs 255.55 on the BSE.
Bank of India ended the day down 4.06 per cent after surging 7.58 per cent during the day, Canara Bank settled at Rs 206.85, down 4.68 per cent. It had surged 14 per cent during the day.
Axis Bank ended the day with 0.29 per cent loss and for Kotak Mahindra Bank it was 1.51 per cent. These stocks surged over 8 per cent and 6 per cent respectively in early trade.
Punjab National Bank was quoted at Rs 479.40, up 0.27 per cent, and HDFC Bank was at Rs 593.65 higher by 1.61 per cent, while ICICI Bank was down 0.11 per cent and SBI (0.25 per cent).
"As the rupee stumbles to new lows on a seeming day-to- day basis, there are two major concerns on the immediate horizon. Firstly, the market is losing its confidence in the RBI's ability to prop up the rupee, and secondly the sudden decline in Rupee is causing a scare among firms nationwide," broking firm RKSV Cofounder, Raghu Kumar said.
The Reserve Bank, yesterday said it will conduct open market purchase of government bonds of Rs 8,000 crore on August 23 to inject liquidity, following which the bank shares witnessed an uptrend in the morning.
Experts however said these measures are not enough and the weakness in the rupee is likely to continue.