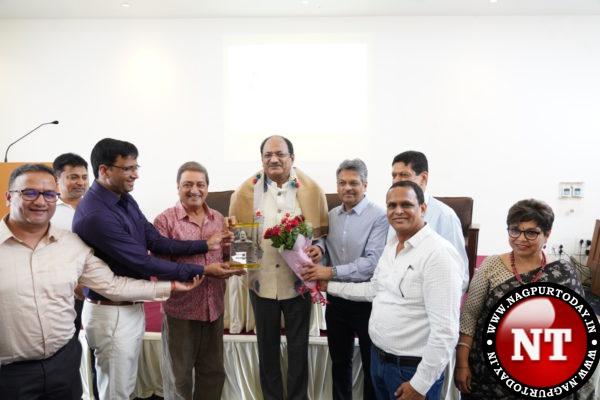 Nagpur: Several organizations in Nagpur came together to felicitate Dr. Brijesh Dixit, the former Managing Director of Nagpur Metro Rail Corporation Limited (NMRCL), on the occasion of his retirement. Dr. Dixit, who served as the MD of NMRCL, played a vital role in the successful implementation and operation of the Nagpur Metro project. The felicitation programme was held on Friday, June 2, at 6.00 pm. in the Tamarind Hall at Chitnavis Centre.
Representatives from various civic and business organizations praised Dr. Dixit for his exceptional leadership, vision, and dedication in transforming Nagpur's transportation landscape. Under his guidance, Nagpur Metro became a shining example of modern and sustainable urban transportation.
During the felicitation ceremony, Dr. Dixit expressed his gratitude to all the stakeholders and team members who contributed to the success of the Nagpur Metro project. He emphasized the importance of continued efforts to enhance public transportation infrastructure for the benefit of the city and its residents.
Dixit, overwhelmed by the response of the city organisations in felicitating him, claimed to have had an emotional attachment with Nagpur since childhood and that his 11 years of work here have been very memorable for him. He recalled with nostalgia, the days of the start of the MahaMetro which began here from scratch and went through several mind-boggling challenges.
He stressed, "Extraordinary things don't need extraordinary people, but ordinary people like me and my team of MahaMetro for this wonderful achievement", who faced the challenges and eventually created milestone after milestone. He was thankful for the support not only of his team, but of the people, and very importantly, the MPs, MLAs and the political leaders.
Dr Dixit stated that there would be greater connectivity in all four directions in the future with Phase II. There would be economic development as related services would spring up. In fact, he felt that although this was a dream come true, but was even better than the dream itself, which is rare! He ended his short speech by adding he would be there at the beck and call of Nagpur whenever needed!
As his tenure in Nagpur came to an end with his retirement, Vidarbha Economic Development (VED) Council wished to give Dr. Brijesh Dixit Ex-Managing Director, NMRCL public recognition for his singular boon to the city — the Nagpur MahaMetro — where he played a key role. VED, therefore, organised Dr. Dixit's felicitation where several of the city's prestigious organizations felicitated him, their teams led by their Presidents.
At the floral welcome, Devendra Parekh, President, VED, made the opening remarks saying that although Dixit had retired, he definitely wasn't tired! Every city, he said, has its idols, its heroes, its living Gods, and Dixit was no exception for having given Nagpurians this great boon of the MahaMetro.
Vilas Kale, PP – VED, introduced Dr. Brijesh Dixit, expressing his delight and pride in taking on this duty. He spoke of his distinguished achievements and read out the number of his awards and distinctions, including prestigious global awards. He stressed that the little things that he did spoke volumes of his refinement that made him the MahaMan, exuding immense positivity, dedication and enthusiasm.
An excellent, to-the-point short film was screened about the Metro comprising the salient features as well as the features that have earned it a place in the Guinness Book of World Records like the construction of the longest double-decker viaduct (metro) which is 3,140 meters (3.14km) achieved by the Wardha Road. This Mass Rapid Transit system in the city of Nagpur is world class, safe, comfortable, accessible, energy-efficient and environmental friendly. In future phases, the Nagpur Metro will be extended to satellite cities like Kanhan, Hingna and Butibori.
Prominently present at the programme were officials from NMRCL. VED members present were Devendra Parekh – President, Rahul Upganlawar – Secretary-General, Vilas Kale – PP, Shivkumar Rao – IPP, Pankaj Mahajan – VP, BK Shukla – VP, Narayan Gupta – VP, Atul Tajpuriya– Joint Secretary, Varun Vijaywargi, Executive Committee member, and other members.
Rina Sinha, Executive Committee Member, was Convener of the programme. Varun Vijaywargi, Executive Committee Member, gave the vote of thanks.
The co-felicitator associations were:
Vidarbha Industries Association (VIA), MIDC Industries Association (MIA), Butibori Manufacturers Association (BMA), Vidarbha Management Association (VMA), Nagpur Chamber of Commerce Ltd. (NCCL) , The Indus Entrepreneurs (TIE), Chamber of Small Industry Associations Vidarbha Regional Chapter (COSIA), The Chamber of Associations of Maharashtra Industry & Trade (CAMIT), Confederation Of All India Traders (CAIT), Vidarbha Taxpayers Association (VTA), The Institute of Chartered Accountants of India (ICAI), The Confederation of Real Estate Developers' Associations of India (CREDAI), The Indian Institute of Architects (IIA), Indian Medical Association (IMA), Indian Institute of Engineers (IIE), Vidarbha Plastic Industries (VPIA), Dalit Indian Chamber of Commerce & Industry (DICCI), Builders' Association of India (BAI), Laghu Udyog Bharati (LUB), Vidabha Rural Industries Association (VIIA), Center for Bhartiya masses and Marketing Development, Sparsh Charitable Society, Sarthak Foundation, Smart Welfare Foundation, Sahyog Yuva Sanghatan, Rotary Club of Nagpur Stars, Nag Vidarbha Bricks Manufacturing Association, Vidarbha Petroleum Dealers Association, Sarvodaya Shikshan Mandal, Parshivni, Vidarbha Event Managers' Association, Indian Chamber of International Business (ICIB), Vidarbha Rural Industries Association (VRIA).