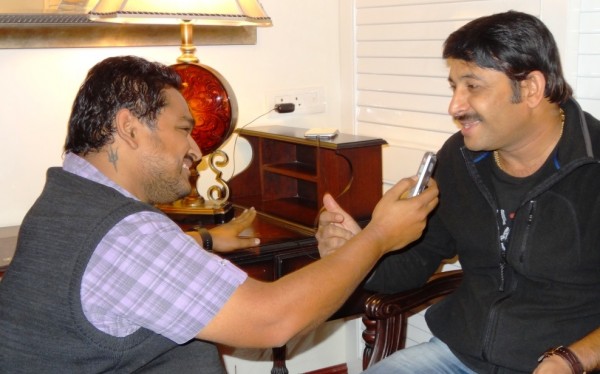 Nagpur News: The third day of Nagpur Mahotsav will be a "Milan of Bhojpuri and Marathi" said Bhojpuri Actor, singer, music director Manoj Tiwari.
In an exclusive interview with Nagpur today, Manoj aka Manoj Bhaiya revealed some secrets and his future plans about films, TV, Music & Cricket.
Nagpur Today: How is it being in Nagpur?
Manoj Tiwari: Great! I always feel that I have some relation with Nagpur because people love me, give so much respect, before I was just restricted to Uttar Pradesh and Bihar but after coming on Big Boss I get love from every part of the country.
Nagpur Today: We now see you on TV quite a lot. Does this imply that you have no plans to go back to Bhojpuri cinema?
Manoj Tiwari: I have not gone anywhere. I am still there, but waiting for something nice to come along and also I have plans to produce a film soon. So leaving Bhojpuri cinema is impossible for me. Whatever I am today is all because of Bhojpuri cinema and their fans.

Nagpur Today: You also own a hotel and now your plans to produce a film are you kind of following Mithun Da (Mithun Chakroborty)?
Manoj Tiwari: "Nahi Bhaiya kahan" (laughing). It's a good industry, where you get to meet new people, and I do what I like to do. "Apan toh aise hee hai Bhaiya "
Nagpur Today: What about CCL? Everybody has announced their teams for the Celebrity Cricket League, but what is your list?
Manoj Tiwari: In the last two seasons there were six teams, but this year there are eight. Our team is called "Bhojpuri Dabbangs" and I have not disclosed the team till now. But, as you insist, I reveal the names exclusively on Nagpur Today. The team is : Manoj Tiwari, Dinesh Lal Yadav, Kisari Lal Yadav, Ravi Kishen, Uday Tiwari, Pavan Singh, Santosh Singh, Ayaj Khan, Vikrant Singh, Abhay Sinha, Prakash Jain, Sushil Singh.

Nagpur Today: How was your experience at Big Boss?
Manoj Tiwari: It was nice; I learnt a lot. But it was a game and things are different in real life- you have to fight, you have to struggle.

Nagpur Today: So did you struggle to get into Hindi Cinema?
Manoj Tiwari: Everybody has to struggle. Bhojpuri cinema gave me a lot, but I still remember the days I was trying to get into Hindi Cinema, and I would like thank, today, a man who is from your Vidarbha, from Amravati- a very famous Bollywood PRO Raju Karia ji, who was very supportive and was always just a call away.

Nagpur Today: Bhaiya your song in "Gangs of Wasseypur "was highly appreciated. Will we be hearing some more Hindi songs in your voice?
Manoj Tiwari: I am so happy for the appreciation. I have sung around 4000 songs, but this one song has made me so famous .I will sing it today in "Nagpur Mahotsav" too.

Nagpur Today: Can you sing two lines of it for us now?
Manoj Tiwari: "Jiyo Re Bihar Ke Lala Jiyo Tu Haazar Sala" (and he stops with a smile) to hear the whole song you have to come in the evening.

Nagpur Today: A message to all our Nagpur today lovers a message before the show?
Manoj Tiwari: "Nagpur Mahotsav ke roke hum intejarwa Nagpur ke logon ke dekhe khaatir dil bekarar ba".
– Yash Raj. Trivedi