Makai Mathari

A crispy, healthy snack that can be carried for travelling and also served as starters, as tortillas with or without additional toppings.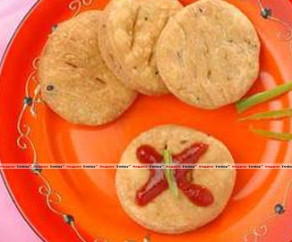 Ingredients:
1 cup Semi crushed corn
1 cup Rice powder
1 cup Wheat flour
1/2 cup Maida (All Purpose Flour)
1/2 cup Besan (Gram Flour)
1/2 cup Semolina (Rava)
1 tsp Rred chilli powder
1 tsp Garam masala
2 tsp Roasted white seasame seeds
1 tbsp Hot oil
Oil for frying
Salt, Green chillies, Ginger, Hing (Asafoetida) according to your taste
Garlic (optional)
Method:
1. Mix all the flours together and add crushed corn kernels.
2. Grind and add chillies, ginger.
3. Add hing, salt, red chilly powder, garam masala, roasted til and add 1 tbsp hot oil to the flour.
4. Mix all the ingredients and make a dough of puri consistency (ensure that you do not crush the corn too much as the dough will become very loose).
5. Allow to rest for 10 minutes. Again knead well and make small balls.
6. Roll flat puries out of it. Pierce it with a fork so that it does not fluff.
7. Deep fry it on low eat till it becomes golden brown.
8. When it cooled, store it in a an airtight container.
Tips: The hot oil is added to enhance the crispiness of any fried item.
Preparation time: 10 -15 minutes
Cooking time: 10 minutes
Serves: 4-7
Shelf life : about a month