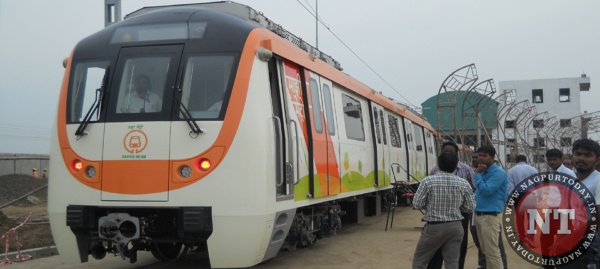 Nagpur: Now-a-days, Nagpur is abuzz with curious talk on "Majhi Metro" look, 'Joy Ride' etc etc. The 5-km phase of Nagpur Metro was started on May 1. But on the stroke of midnight of this day, a fiery tragedy had taken place. A devastating fire at Metro's Khapri Depot reduced imported material worth crores to ashes. The contractor looking after the Metro work has lodged a complaint with Sonegaon police regarding the 'accidental' fire. What is surprising is that even after two days of fire incident, the print and electronic media has not taken note of the incident. Was the fire a deliberate act aimed at usurping insurance money? Is the tragedy being suppressed to hide 'illegal' act?
When contacted, the Metro Public Relations Officer Akhilesh Halve admitted fire breaking out in Khapri Depot on Tuesday midnight and damaging of imported steel and rubber plates worth Rs 2.30/3 crore. The fire was caused by spark due to lightning on Tuesday night. Since the rubber plates being highly inflammable and strong winds led to fire turning a major blaze, Halve said. On the contrary, the Sonegaon PSI Sanjay Pande informed that rubber pads worth Rs 8 crore were redused to ashes in the Khapri Depot fire. While the PSI said the rubber pads were kept in open the Metro PRO informed the rubber pads were stored covered in a shed.
According to Narendra Nagar Fire Station Officer Nakod, three fire tenders of Fire Brigade and one of Airports Development Authority fought the fire for hours and brought it under control in the wee hours. The Fire Control Room received information regarding the fire at Khapri Depot at 1.24 am. The destroyed steel plates and imported rubber plates were kept in open surrounded by tin compound, Nakod said.
When asked about the phone number of contractor company, the Metro PRO Halve promised to provide it. But called the second time, Halve tersely said, "I myself will gather information and inform you accordingly." Hence contact with the said company could not be done for detailed information.
The information regarding the fire was first provided to Nagpur Today by Chetan Rajkarne, General Secretary of Kendriya Janvikas Party, Maharashtra unit. He suspected financial scam and demanded a high-level probe into the 'accidental' fire.